Celebrate Children's Book Week with local author Dashka Slater reading from her adorable and charming new picture book, Escargot! (Ages 4+)
Bonjour! Escargot is a beautiful French snail who wants only two things:
1. To be your favorite animal.
2. To get to the delicious salad at the end of the book.
But when he gets to the salad, he discovers that there's a carrot in it. And Escargot hates carrots. But when he finally tries one with a little help from you! he discovers that it's not so bad after all.
Event date:
Sunday, May 7, 2017 - 11:00am
Event address:
Books Inc.
1375 Burlingame Ave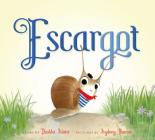 $16.99
ISBN: 9780374302818
Availability: In Stock Now - Click Title to See Store Inventory. Books must show IN STOCK at your desired location for same day pick-up.
Published: Farrar, Straus and Giroux (Byr) - April 11th, 2017
---