Saturday Storytime presents special guest Danielle Anderson-Craig for a reading of her heartfelt debut picture book, The Magic of We. (Ages 3+)
A heartfelt children's tale describing the beauty of friendship. Includes unreleased music from musician and producer Ikey Owens (Mars Volta, Jack White).
"Read The Magic of We, and your heart will expand with joy." -- Juan Alderete de la Pena, The Mars Volta
"Have you ever met the missing piece to your puzzle? The Magic of We will reaffirm your faith in love." -- Cedric Bixler-Zavala, The Mars Volta and At the Drive-In
The Magic of We is a children's picture book by Danielle Anderson-Craig and illustrated by her friend and fellow teacher (they taught at same school!), Carly Dooling. It is a tender tale of blossoming friendship in which two children meet and are transported into a world where the ordinary becomes fantastic and the known becomes surreal as their shared experience creates unlimited imagination and play. The refrain "Being with you..." reverberates throughout the pages of detailed imagery, lush with color and imagination. It's a magical place that both kids and parents will recognize from their own experience of finding a kindred spirit. A first book for both Anderson-Craig and Dooling, The Magic of We combines the magic of music and the music of words to describe the amazing feeling of finding someone who "fits" you.
Event date:
Saturday, April 21, 2018 - 1:00pm
Event address:
Books Inc.
1491 Shattuck Avenue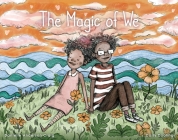 $17.95
ISBN: 9780996401630
Availability: In Stock Now - Click Title to See Store Inventory. Books must show IN STOCK at your desired location for same day pick-up.
Published: Third Man Books - February 13th, 2018
---