Saturday Storytime presents special guest Jennifer Fosberry for a reading of the latest installment in her New York Times-bestselling picture book series, Isabella: Artist Extraordinaire. (Ages 4+)
Plucky, purple-haired Isabella, star of the New York Times bestselling picture book series, is back for another adventure!
In how many colors can a little girl dream?
When Isabella has a day off from school, her parents suggest going somewhere special. Isabella knows that home is special, but she humors them anyway and begins to imagine places they could go, turning to some of history's most famous artists for inspiration. Perhaps they could go to The Boating Party, see Dancers In Blue, or admire The Starry Night.
But can Isabella paint pictures inspiring enough to show her parents that home is actually the most wondrous place of all?
Event date:
Saturday, May 11, 2019 - 11:00am
Books: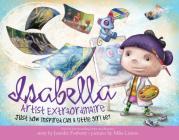 $17.99
ISBN: 9781492672647
Availability: In Stock Now - Click Title to See Store Inventory. Books must show IN STOCK at your desired location for same day pick-up.
Published: Sourcebooks Jabberwocky - May 7th, 2019
---