Books Inc. Palo Alto proudly welcomes local author Nicole Chen, graphic novel author Lily LaMotte, and illustrator Michelle Lee, in a special story time of their debut picture books, HOW WE SAY I LOVE YOU and CHLOE'S LUNAR NEW YEAR!
---
HOW WE SAY I LOVE YOU:
In this heartwarming picture book, an Asian American girl shares how her family expresses their love for one another through actions rather than words.

How do you tell your family that you love them? For Hana, love is all around her: Mom stirs love into a steaming pot of xifan. Dad cheers with love at her soccer game. Hana says good night with love by rubbing her grandma's feet and pouring her grandpa his sleepy tea. And as the light fades, Hana's parents tuck her into bed and give her a good night kiss.

So many families express their love in all they do for one another, every day. Here is a book that wraps you in a hug and invites your family to share their own special ways of showing love.
"This is a successful story that shows not only the myriad ways families indicate love but also an extended family as well." - School Library Journal
"A warm embrace of a book." - Kirkus Reviews
Nicole Chen's experience growing up Taiwanese American, and the blend of Catalan, Spanish, Taiwanese and American influences in her present home, fuels her desire to write and tell stories that reflect a diverse and multicultural American identity. Nicole lives in sunny California with her Andorran husband and young daughter. This is her debut book. To learn more about Nicole, visit storiesbynicolechen.com.
CHLOE'S LUNAR NEW YEAR!:
Lily LaMotte, brilliant author of the graphic novel Measuring Up, has written her debut picture book featuring a special Lunar New Year feast where young Chloe, her little brother, and their multiracial family celebrate this wonderful holiday and all its traditions. Perfect for fans of Bringing in the New Year by Grace Lin and I Am Golden by Eva Chen.
It's almost Lunar New Year, and Chloe can't wait to celebrate! But first, Chloe and her family must prepare for the new year. They buy new shoes, lay out good-luck oranges in a bowl, decorate the red envelope, and make a crispy turnip cake. Everyone comes together to cook a fantastic feast, saving a plate for A-má, of course. Chloe enjoys the festive celebration and yummy food, but most of all, she loves spending time with her family.
Lily LaMotte and Michelle Lee have created a tender, warm, and uplifting holiday story about tradition and the importance of being with those you love.
"Themes of love and family underlie the snappy text. The spare drawings are most engaging on the endpapers featuring portraits in a family album." -Kirkus Reviews
Lily LaMotte graduated from Hamline's Writing for Children and Young Adults program with an MFA. When she isn't writing, she's cooking up new recipes, exploring new crafts, and supporting her library system as a KCLS Foundation board member. She is also the author of the graphic novels Measuring Up and Unhappy Camper, forthcoming in 2023. Visit Lily at lilylamotte.com.
Michelle Lee is an illustrator/author from Los Angeles and has been drawing since she could hold a pencil. She studied biology and printmaking at UC Berkeley and earned an M.S. in Urban Education from the University of Pennsylvania. She is a former K-8 science teacher and her work and creative endeavors have always hovered around the intersection of art, science and education. In addition to illustrating picture books, Michelle co-owns The Bee's Knees, a children's clothing and accessories line as well as her own line of invitations and cards (on Etsy as MKL Studio).
Event date:
Saturday, January 21, 2023 - 11:00am
Event address:
Books Inc.
74 Town & Country Village
Books: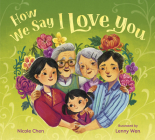 $18.99

ISBN: 9780593428399
Availability: In Stock Now - Click Title to See Store Inventory. Please allow up to 48-hours for Curbside Pickup orders to be processed.
Published: Knopf Books for Young Readers - December 13th, 2022
---

$18.99

ISBN: 9780063076518
Availability: In Stock Now - Click Title to See Store Inventory. Please allow up to 48-hours for Curbside Pickup orders to be processed.
Published: HarperCollins - January 3rd, 2023
---