Dave Eggers, author of Heroes of the Frontier and The Circle, and founder of McSweeney's and 826 Valencia, and illustrator Shawn Harris come to Books Inc. Opera Plaza to celebrate the publication of Her Right Foot, a picture book about the Statue of Liberty. Bring the kids! Shawn will be leading fun drawing and collage projects. Her Right Foot postcards will also be supplied for letter writing to legislators. A portion of sales made during this event will benefit 826 Valencia. (Ages 6+)
"I want to hold this book in one hand and a torch in the other and stand on an island someplace so everyone can see." --Lemony Snicket
If you had to name a statue, any statue, odds are good you'd mention the Statue of Liberty. Have you seen her?
She's in New York.
She's holding a torch.
And she's in mid-stride, moving forward.
But why?
In this fascinating, fun take on nonfiction, Dave Eggers and Shawn Harris investigate a seemingly small trait of America's most emblematic statue. What they find is about more than history, more than art. What they find in the Statue of Liberty's right foot is the powerful message of acceptance that is essential to an entire country's creation.
Event date:
Sunday, October 15, 2017 - 1:00pm
Event address:
Books Inc.
601 Van Ness Avenue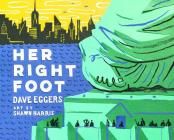 $19.99
ISBN: 9781452162812
Availability: In Stock Now - Click Title to See Store Inventory. Books must show IN STOCK at your desired location for same day pick-up.
Published: Chronicle Books - September 19th, 2017
---