Finland and Northern Scandinavia Map (National Geographic Adventure Map #3300) (Folded)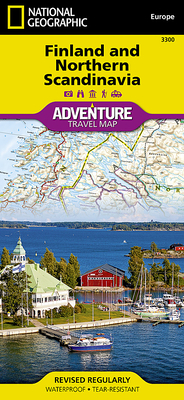 Finland and Northern Scandinavia Map (National Geographic Adventure Map #3300) (Folded)
$14.95
Usually Ships in 1-5 Days
Other Books in Series
This is book number 3300 in the National Geographic Adventure Map series.
- Waterproof - Tear-Resistant - Travel Map
National Geographic's Finland and Northern Scandinavia Adventure Map is designed to meet the unique needs of adventure travelers with its detailed and accurate information. Cities and towns are easy to find in the user-friendly index. Motorways, expressways, and other roads are clearly designated and include distance in kilometers so travelers can easily plan their best route. Specialty content such as hundreds of diverse and unique recreational, ecological, cultural, and historical destinations make Adventure Maps the perfect companion to a guidebook. National parks, castles, churches, campsites, winter sports resorts, archeological sites, museums, and scenic viewpoints are among the sites noted to help you take advantage of the region's many natural attractions and activities.
The southern half of the region is shown on the front side of the map spanning from Finland's southern tip to the city of Rovaniemi in the north. Sweden's eastern coast is included from the city of Umea north to Jokkmokk. The reverse side of the map covers the northern half of the region from Norway's island of Vega north to the far reaches of its Norwegian and Barents Sea coasts. Northern Sweden is shown from Hemavan to the country's northern borders with Norway and Finland. The northern portion of Finland is included from Salla to the border with Norway.
Every Adventure Map is printed on durable synthetic paper, making them waterproof, tear-resistant and tough -- capable of withstanding the rigors of international travel.
Map Scale = 1:975,000Sheet Size = 25.5" x 37.75"Folded Size = 4.25" x 9.25"