The Enormouse Pearl Heist (Geronimo Stilton #51) (Paperback)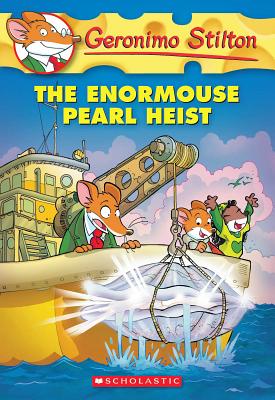 The Enormouse Pearl Heist (Geronimo Stilton #51) (Paperback)
$7.99

Unavailable, Out of Stock, or Out of Print
Other Books in Series
This is book number 51 in the Geronimo Stilton series.
Each Geronimo book is fast-paced, with lively full-color art and a unique format kids 7-10 will love.One day, my friends and I, Geronimo Stilton, made an amazing discovery. We found a huge oyster -- with an enormouse pearl inside! I was so excited about this extremely rare, precious pearl that I wrote a special feature about it in The Rodent's Gazette. That article attracted lots of attention -- both good and bad! The enormouse pearl was in danger of being stolen. Would my friends and I be able to protect it?
Geronimo Stilton is the publisher of The Rodent's Gazette, Mouse Island's most famouse newspaper. In his spare time, Mr. Stilton enjoys collecting antique cheese rinds, playing golf, and telling stories to his nephew Benjamin. He lives in New Mouse City, Mouse Island. Visit Geronimo online at www.scholastic.com/geronimostilton.
"Lightning pace and full-color design will hook kids in a flash." -- Publishers Weekly
"Lightning pace and full-color design will hook kids in a flash." -- Publishers Weekly