Run for the Hills, Geronimo! (Geronimo Stilton #47) (Paperback)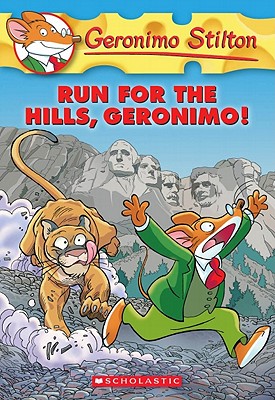 Run for the Hills, Geronimo! (Geronimo Stilton #47) (Paperback)
$7.99

Unavailable, Out of Stock, or Out of Print
Other Books in Series
This is book number 47 in the Geronimo Stilton series.
More than 18 million Geronimo Stilton books in print!Finally, I was about to leave for a relaxing vacation all by myself. I was ready to kick back and connect with nature. But somehow, my peaceful trip turned into a crazy treasure hunt in the beautiful Black Hills of South Dakota with the entire Stilton clan in tow! Our journey even included a hot-air balloon ride to Mount Rushmore. Holey cheese! This was one adventure I'd truly remember.
Geronimo Stilton is the publisher of The Rodent's Gazette, Mouse Island's most famouse newspaper. In his spare time, Mr. Stilton enjoys collecting antique cheese rinds, playing golf, and telling stories to his nephew Benjamin. He lives in New Mouse City, Mouse Island. Visit Geronimo online at www.scholastic.com/geronimostilton.
"Lightning pace and full-color design will hook kids in a flash." -- Publishers Weekly
"Lightning pace and full-color design will hook kids in a flash." -- Publishers Weekly