Submitted by
NYMBC
on Wed, 03/25/2015 - 9:25am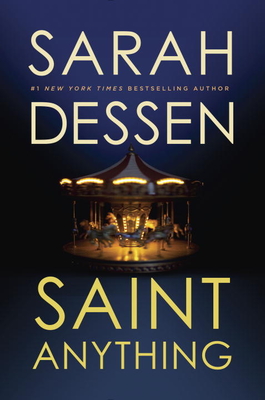 Saint Anything by Sarah Dessen
Expected Publication Date: May 5th, 2015
Publisher: Viking Books for Young Readers
Page Count: 432 pages
Peyton, Sydney's charismatic older brother, has always been the star of the family, receiving the lion's share of their parents' attention and--lately--concern. When Peyton's increasingly reckless behavior culminates in an accident, a drunk driving conviction, and a jail sentence, Sydney is cast adrift, searching for her place in the family and the world. When everyone else is so worried about Peyton, is she the only one concerned about the victim of the accident?
Enter the Chathams, a warm, chaotic family who run a pizza parlor, play bluegrass on weekends, and pitch in to care for their mother, who has multiple sclerosis. Here Sydney experiences unquestioning acceptance. And here she meets Mac, gentle, watchful, and protective, who makes Sydney feel seen, really seen, for the first time.
The uber-popular Sarah Dessen explores her signature themes of family, self-discovery, and change in her twelfth novel, sure to delight her legions of fans.
Why we can't wait: Um, new Sarah Dessen please and thank you.
Denton Little's Deathdate by Lance Rubin
Expected Publication Date: April 14th, 2015
Publisher: Alfred A. Knopf Books for Young Readers
Page Count: 352 pages
Fans of John Green and Matthew Quick: Get ready to die laughing.
"Denton Little's Deathdate" takes place in a world exactly like our own except that everyone knows the day on which they will die. For Denton, that's in just two days--the day of his senior prom.
Despite his early deathdate, Denton has always wanted to live a normal life, but his final days are filled with dramatic firsts. First hangover. First sex. First love triangle--as the first sex seems to have happened not with his adoring girlfriend, but with his best friend's hostile sister. (Though he's not totally sure--see, first hangover.) His anxiety builds when he discovers a strange purple rash making its way up his body. Is "this" what will kill him? And then a strange man shows up at his funeral, claiming to have known Denton's long-deceased mother, and warning him to beware of suspicious government characters. . . . Suddenly Denton's life is filled with mysterious questions and precious little time to find the answers.
Debut author Lance Rubin takes us on a fast, furious, and outrageously funny ride through the last hours of a teenager's life as he searches for love, meaning, answers, and (just maybe) a way to live on.
Why we can't wait: Get ready to die laughing?! SOLD! Also, I'll read anything with a hearse on the cover!