Submitted by
NYMBC
on Wed, 10/28/2015 - 10:08am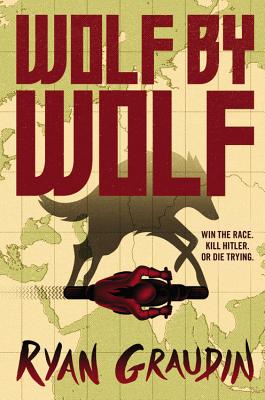 Wolf by Wolf by Ryan Graudin is one of my favorite October releases! I picked up the advanced copy when I was in a reading slump. I had tried reading a romance novel, didn't make it far. I tried reading an adventure novel, took too long to get anywhere. I read a few comics, but they're over so fast. I was craving adventure but also a bit of a romance and I wanted a kick-ass female character to pull me in. Nothing I picked up was quite what I was looking for!
Then one day, I was sitting in the back room of one of our stores next the over crowded bookshelf, a graveyard for most advanced copies, looking like it hadn't been cleared out in months. Books were haphazardly stacked onto more stacks of books, and facing out, teetering on the edge of a shelf, was Wolf by Wolf, it's cover instantly drawing my attention.
I admit, I'm a sucker for wolves, so the shadow of the wolf mixed with the motorcycle and map intrigued me. Then the premiss of an alternative WWII where Germany and Japan are in power and Hitler continues to reign, sold it. So into my purse it went! I got home that night and instead of turning on the TV or logging on to Tumblr to scroll the endless void, I pulled out Wolf by Wolf and was instantly pulled in to Yael's world, life, and quest for revenge. It was everything I was looking for. Yael is a strong female character, there's a hint of romance, which is really all I needed, and the action/ adventure was perfect! I LOVED this book. Now I have to go back and read Graduin's previous book, Walled City!
(Yours Truly, portraying all my crazy excitment.)
If you need more information and want another review, check out this Kirkus Review!