Submitted by
YAatBooksInc
on Wed, 08/11/2021 - 2:23pm
How Aristotle and Dante Discover the Secrets of the Universe is One of the Most Reflective Books of Our Generation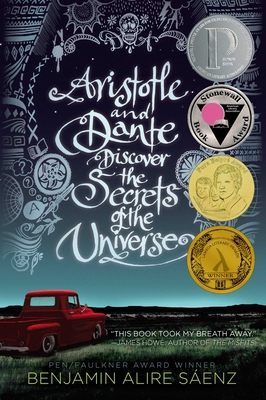 By: Kaia B.
One of the first things I thought of and questioned when I began reading Aristotle and Dante Discover the Secrets of The Universe is, "Both Ari and Dante are fifteen, and they act so much younger than me." Since I'm 'only' fourteen and always called 'mature for my age' by my teachers and other adults, seeing how teenagers acted in 1987, the year the book takes place, really got me thinking.
In the book, Ari and Dante spend their time during summer swimming, playing at the park, and overall having fun without their parents. The book mentions many times how Ari doesn't like to watch TV, and how Dante especially does not like to wear shoes. This, compared to how I grew up and how I, being a year younger than them when the book starts, am experiencing things, made me think, as stated.
As spoken on social media such as Tik Tok and Instagram, there have been many reports that my generation has been forced to grow up too fast. There's evidence of it, too.
With big events such as 9/11, the Stock Market Downturn of 2002, Hurricane Katrina of 2005, and the Great Recession of 2008 surrounding our births, Gen Z was already around traumatizing happenings from a young age. And this only adds to the greater exposed crime, which is a factor in the common saying of parents to kids of "be home when the street lights turn on."
In Ari and Dante's case in 1987-1989, they and presumably other teenagers were able to stay out late at night (per one of Ari and Dante's favorite activities of driving to the desert to see the stars), head out to the park without parent supervision, and other things that I wasn't able to experience.
I don't know about my peers, but as a kid, going out to the park three blocks away and other activities weren't as accessible to me as it was to Ari and Dante. Even now, my parents constantly remind me to be careful on the bus, pay attention while walking, and don't display that you have things worthy of taking, among other things.
In the 1980s, crime rate was at an all time high. Surprisingly, it's lower now. However, with social media and more news outlets, crime is displayed more frequently. Not to mention the constant fear mongering and other fear tactics.
Crime isn't the only thing taking the teenage life from teenagers today. "Forced to grow up too fast" is also the work of societal expectations.
Another trending topic on social media, pre-teens or tweens today are skipping the phase that younger generations went through, which was mainly glitter and unicorns and things society would now call 'cringey.' It's in statistics, too. Multiple pre-teen stores like Justice and Claire's have been having to shut down due to lack of business. Even older siblings question why 11-14 year olds look older than they were at that age.
Pre-teens are exposed to more social media, which includes not only beauty standards but issues around the world, as brought up with crime. Racism, homophobia, religious debates, global warming, and many more types of prejudice is what I and many others have found themselves surrounded by. Older politicians are influencing how they leave the world for us to deal with, and many, like myself, want to do something about it. It's a lot to think about when you're exposed to it.
Aristotle and Dante Discover the Secrets of the Universe is an overall fantastic book in many aspects. The story features relationships between parental figures, dealing with the effects of a parent's trauma as a child, LGBTQ+ issues, and more. But the thing that stood out to me was the reflectiveness of my own life and the discussions about Gen Z's childhood going around social media. I, personally, like where I am at now, and my childhood, but it got me wondering how my childhood and now could be different if social media hadn't been brought to the surface.
So, the real question is, how does this upbringing affect future kids?

$14.99

ISBN: 9781442408937
Availability: In Stock Now - Click Title to See Store Inventory. Please allow up to 48-hours for Curbside Pickup orders to be processed.
Published: Simon & Schuster Books for Young Readers - April 1st, 2014
---