Submitted by
YAatBooksInc
on Sat, 08/24/2019 - 2:04pm
By Teen Advisory Board Member Ava Lee
The Downstairs Girl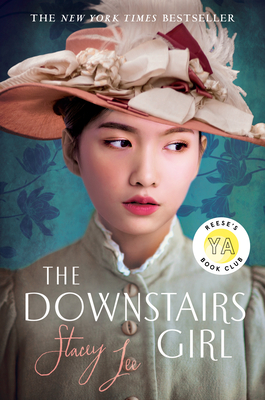 by Stacey Lee
"By day, seventeen-year-old Jo Kuan works as a lady's maid for the cruel daughter of one of the wealthiest men in Atlanta. But by night, Jo moonlights as the pseudonymous author of a newspaper advice column for the genteel Southern lady, "Dear Miss Sweetie." When her column becomes wildly popular, she uses the power of the pen to address some of society's ills, but she's not prepared for the backlash that follows when her column challenges fixed ideas about race and gender.
While her opponents clamor to uncover the secret identity of Miss Sweetie, a mysterious letter sets Jo off on a search for her own past and the parents who abandoned her as a baby. But when her efforts put her in the crosshairs of Atlanta's most notorious criminal, Jo must decide whether she, a girl used to living in the shadows, is ready to step into the light."
Stacey Lee's third historical fiction was always bound to be one of the freshest books of 2019+! This isn't the kind of boring historical fiction you're forced to read in high school, but rather a story that deals with America's grim history of racism and sexism while being one of the funniest, wittiest books I've read in awhile.
Also, I WANT TO BE BEST FRIENDS WITH JO! She's such a clever and well-written character; bold but not brash, genuine yet sardonic. The insights she shares with the reader are absolutely hilarious (see: morel mushrooms), as is with all of Lee's heroines.
If you're a fan of witty prose and historical fiction—and even if you're not!—be sure to get THE DOWNSTAIRS GIRL by Stacey Lee on your TBR shelf! Her novels just keep getting better and better (see: UNDER A PAINTED SKY, OUTRUN THE MOON, THE SECRET OF A HEART NOTE).
If this all doesn't convince you to read TDG, keep in mind that it has five starred reviews from all the major reviewers.
---
BONUS: Staff Review
I love Stacey Lee and all she does. There. I've said it. And I've probably said it in every single one of my reviews for her books. She has an amazing talent of capturing a feeling and presenting complex scenarios, like classism and racism, and complicated emotions, romantic and familial, to her readers in a thoughtful, careful, yet thorough way. On top of that, she has a knack for creating characters that seep into the heart and stick. I can't wait to put this into the hands of young readers who love the written word as much as Jo and "Miss Sweetie".
— Hannah, NYMBC Coordinator