Submitted by
YAatBooksInc
on Fri, 06/14/2019 - 8:30am
---
Teen Advisory Board Member Amanda Reviews Six of Crows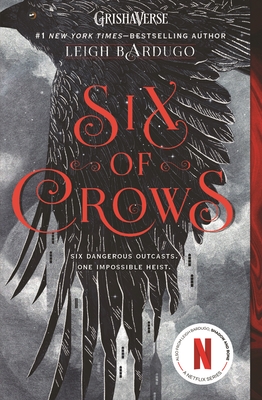 Six of Crows by Leigh Bardugo
In Ketterdam, home to some of the most infamous criminal organizations, anything can be bought for the right price. When Kaz Brekker is offered enough money to make himself rich beyond his years, he accepts, of course, being the notorious "Bastard of the Barrel." However, the heist he has to pull off can't be done by him alone, and he needs a crew to help him accomplish it. Inej, Nina, Wylan, Jesper, Matthias join Kaz, each with their own traumatic backstory and special powers. Together, they must bond and become a team or risk tearing themselves apart. When they realize that more is at stake than ever thought possible, they must succeed—or die trying. Using their tricks and skill, will they have enough power, and guts, to pull off this impossible heist?
If you haven't heard of this book already, you seriously need to drop what you are doing and go get it. It's such an incredibly well-written book and there is something in it for everyone. There's an adventure, angst, pain, and even a pinch of romance! I love each and every character so much, and they are all precious to my heart. Unlike most YA books, the characters in Six Of Crows have their own unique, multidimensional personality. You can always choose one person whose your favorite, someone who just really speaks to you.
Honestly, this makes my list of one of the best YA books of all time. I could not put it down at all, and it is something where one moment could be joyful and happy, and the next could leave you anxiously waiting for something dangerous to happen. I would totally recommend this for any fans of YA, no matter the genre. With the adaptation coming to the screen soon via Netflix, all readers should give this book a try.