Submitted by
YAatBooksInc
on Fri, 06/28/2019 - 11:25am
---
Teen Advisory Board Member Evgenia Reviews The Princess and the Fangirl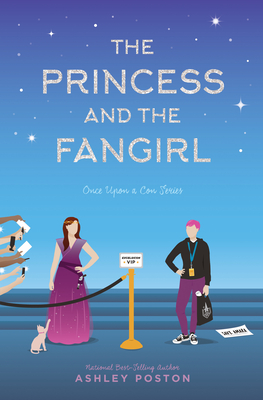 by Ashley Poston
Imogen, a die-hard fan of a major science fiction franchise, Starfield, has been campaigning to try to prevent the death of her favorite character in the series, Princess Amara. Through the internet, she has garnered lots of support and is hopeful that maybe the princess will be saved after all. Jessica, the actress playing Amara, cannot wait to leave behind the franchise and move on to more serious roles. Her hatred of Starfield is no secret and she will soon be moving onto Oscar-worthy roles, that is, as long as she doesn't have to sign her contract again. When someone begins leaking pages from the Starfield script, Jessica and Imogen work together, using their similarity to switch places. Imogen must field panels, meet fans, deal with Jessica's annoyingly attractive assistant, and most importantly, try not to reveal her true identity. On the other side of the convention, Jessica must try to track down whoever is leaking that script while still trying to hide herself from Imogen's family and trying to deal with developing feelings for Imogen's friend, Harper.
With a large convention as the setting, and fandom references galore, this book is a fairy tale transposed into a modern geek's fantasy. Romance and fluff are in abundance, making this book a quick, happy, pleasant read. Unlike many romance books, however, one of the main romantic plots contains lesbian representation. Every aspect of the book is tinged with pop-culture references and just over all geekiness. Poston has created a book that stays mostly true to the major theme, fandom.
A lighthearted, fandom-filled twist on a familiar tale, this book will delight geeks and romance fans alike.
The Princess and the Fangirl is in stores now!