Submitted by
YAatBooksInc
on Fri, 07/05/2019 - 1:52pm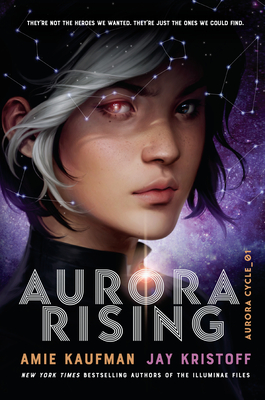 Aurora Rising by Amie Kaufman & Jay Kristoff is a new YA Sci-Fi adventure and is set in the year 2380, where the graduating class of Aurora Academy are being assigned their first missions. The golden boy Tyler Jones gets stuck with a group of discipline cases and psychopaths that shouldn't be in the same room together. In it is a diplomat, a sociopathic scientist, a tech whiz, a warrior with anger issues, a tomboy pilot (who's totally not in love with anyone, especially Ty), and the mystery girl (cough, cough her name is the title) Ty has just rescued from space who has been cryogenically frozen for two centuries. And who could also set off a war a million years in the making. Meaning Ty's group of dregs could be the last hope for the entire galaxy.
This is a hilarious, heart-wrenching adventure in space filled with angsty characters who are flawed yet lovable in every way, as well as incredibly lifelike; making readers want to protect them at all costs. Amy Kaufman and Jay Kristoff do a wonderful job of breaking your heart and making you laugh at the same time while anxiously waiting for the continuation in this whole new universe with this ragtag group of misfits.
About Andrea:
Andrea is a native of Daly City and has been a book lover all her life. Young Adult is her favorite genre right now. She is currently the children's specialist at Compass Books Terminal 3 and attends San Francisco State University.