Submitted by
YAatBooksInc
on Fri, 06/09/2017 - 9:19am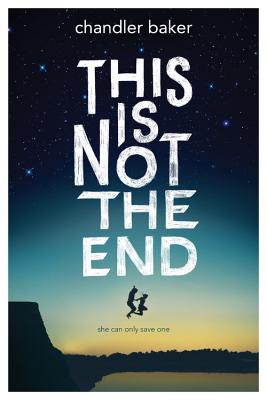 (Availabe in stores August 8th)
From the first page, it's pretty obvious that This is Not the End is going to send you on a painful, rollercoaster ride of emotions. Chandler Baker has created a not-too-distant future that many of us could easily slide into. Lake's world is not that different from our own, except humans now have the power to resurrect the dead, but only once and on your 18th birthday, as if going to college and choosing your path in life isn't hard enough.
And that's what Lake Devereux should have been doing. She should have been enjoying the last summer before college with her two best friends, Will and Penny. But a terrible car accident leaves Lake the sole survivor with a heart-wrenching choice: who does she bring back? It's a plot, with lots of twists and turns, that begs the reader to continue. But I've learned that a book needs more than a good plot to keep readers engaged, it needs characters to pull you in. This is Not the End is full of characters to connect with. From Lake, who holds the weight of the world on her shoulders, and Matt, her angry, paraplegic brother; to Ringo, the boy with his own heart-breaking past, and Will and Penny, with their deepest secrets bared after death, Chandler beautifully captures the difficult emotions that come with grief, acceptance, and unimaginable choices and lays out a moral dilemma for her readers to ponder: Is it right to bring people back from the dead? What would you do?
Though I hesitate to compare anything to Tuck Everlasting which has challenged readers for decades to question the human need to live forever, Chandler Baker and This is Not the End has done something very similar. She has taken a human desire: to bring loved ones back from the dead- to have just a little bit longer, and brought it to life, forcing her readers to examine this dream, to want it, and to doubt it.
In a simple summary: