Submitted by
YAatBooksInc
on Fri, 05/17/2019 - 11:19am
---
Teen Advisory Board Member Evgenia Reviews There's Something About Sweetie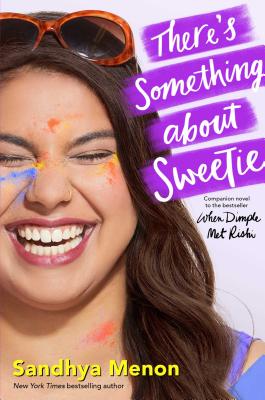 by Sandhya Menon
Ashish Patel is grappling with his emotions after a messy breakup. He can't stop thinking about her and even his performance as his school's star basketball player is suffering. When he finally agrees to letting his parents choose a girl for him, he isn't expecting the girl's parents to forbid her from dating him, the son of wealthy parents and the basketball star at his high school. Sweetie Nair is ready to start a project, where she challenges herself to be confident and push back against all of the people who think that she is less just because she is fat. However, this may be harder than she thought considering that even her mother doesn't want her to date Ashish Patel until she loses weight and becomes "good enough for him." Ashish and Sweetie begin to date in secret, however some complications pose threats to their burgeoning love.
This book shows the complications of well-meaning parents, first love, and forgiveness through the lens of a young Indian girl struggling with accepting her body. Sweetie gains confidence and learns over the course of the book. Amusing banter is peppered throughout the pages, and the minor characters really do shine as distinct people in it. The supporting characters have lives and personalities and complement the main plot, adding more depth. Not only are there romantic relationships, but there are realistic, relatable platonic relationships that develop.
There's Something About Sweetie would be the perfect book for someone struggling with self confidence. Sweetie proves that just because someone looks a certain way, they can do whatever they want and be confident. A lighthearted, romantic book with some vital messages at the center, about acceptance, self-worth, and family, that would be great for teens struggling with finding confidence.
There's Something About Sweetie is in stores now!