Submitted by
YAatBooksInc
on Tue, 10/16/2018 - 10:58am
---
Teen Advisory Board Member Emily Reviews Strange the Dreamer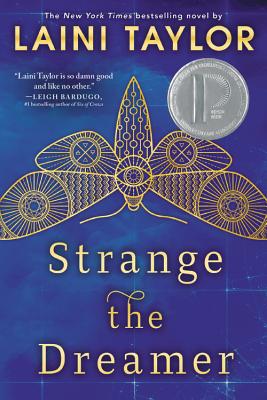 Strange the Dreamer by Laini Taylor
Strange the Dreamer by Laini Taylor follows Lazlo Strange's journey to complete his dream: to see the lost city of Weep. Starting at a young age, Lazlo's fascination with the lost city supported him through his lonely childhood, and continued even after becoming a librarian as an adult. Unfortunately, Weep is located across the world and hasn't been heard from in centuries. Lazlo is not like the warriors and heroes in his stories; he cannot possibly make the journey on his own. Fortune strikes when Eril Fane, a warrior known as the Godslayer, comes into Lazlo's town in search of anyone who can help him fix the history that shadows Weep. Little do they know, five of the godspawn, the offspring of the same gods Eril Fane slew, survived and live in the giant seraph that continues to haunt the city. One of them, Sarai, visits Lazlo through his dreams, and the pair eventually develops a relationship. As their relationship blossoms, conflict ensues between the godspawn and the inhabitants of Weep, and secrets begin to surface.
Throughout the book, Laini Taylor maintains her fantastical imagery and magnificent setting. The characters were all intriguing, even when they weren't always the most likable. Lazlo remains endearing and almost overwhelmingly good throughout the book, and Sarai was such an interesting character to read. While their romance did develop rather quickly, I found myself rooting for the two of them all the same. The conflict between the two sides is realistic, and each side has a valid motive. Although there is a clear good side and bad side, I felt empathetic towards the bad side. However, although the plot sounded really interesting, the pacing was so slow I stayed slightly detached from the story while reading. That being said, I was easily able to read the entire book in one sitting due to the amazing world building and unique cast of characters. All in all, Strange the Dreamer by Laini Taylor has a slower start, but its immersive world and fascinating set of characters more than compensate for its pacing.
-Review written by Emily, Age 14
Did you enjoy Strange the Dreamer too? The sequel, Muse of Nightmares, is available in stores now!