Submitted by
YAatBooksInc
on Mon, 04/15/2019 - 1:32pm
---
Teen Advisory Board Member Evgenia Reviews Sky in the Deep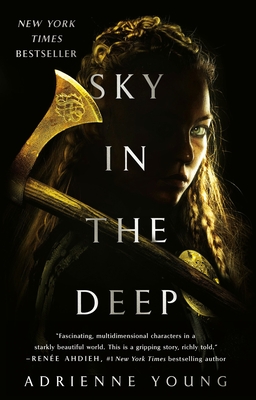 Sky in the Deep by Adrienne Young
Eelyn, a young warrior, has been raised to value her clan, the Aska, above all else, but when she sees her dead brother fighting on the other side of a battle she is thrust into unfamiliar territory. Stolen away to live alongside her enemies, the Riki, Eelyn must form alliances and fight to survive the winter. Even further complicating things is Fiske, her brother's new friend, who she must trust in order to win the coming battle. Eelyn is forced to confront her old beliefs, and to unite with her enemies in order to stop an even greater enemy that threatens both the Riki and the Aska.
Sky in the Deep has such originality, thrusting the reader into the brutal lives of viking clans. Adrienne Young delved deep into a portion of history seldom seen in young adult novels, and created a vivid, harsh backdrop for her story. The characters were compelling, revealing more and more secrets, connections, and traits as the book proceeded. With every page, the characters felt more and more real, as if they were flesh and blood.
Eelyn is an interesting protagonist to read about. She is characterized, largely, by her beliefs and values and her status as Aska. As all of those are threatened and challenged, the reader is able to see all of the ways that she develops and changes.
Clans, battles, and friendships abound in this interesting viking novel. Young's writing emphasizes the connections between characters and raises questions about loyalty and family. Sky in the Deep would be perfect for people fascinated with vikings, history, or just those looking for an exciting, unusual read.
The Sky in the Deep is available in stores now!