Submitted by
YAatBooksInc
on Mon, 08/13/2018 - 9:16am
---
Teen Advisory Board Member Alannah Reviews My Lady Jane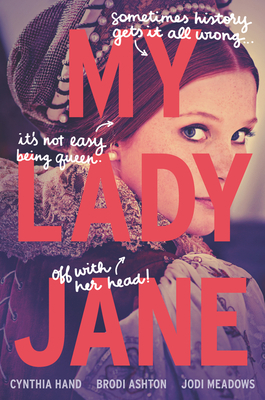 My Lady Jane, Available in stores now!
My Lady Jane, co-written by Cynthia Hand, Brodi Ashton, and Jodi Meadows, is a delightful mix of humor, romance, history, and a little bit of magic that turns the well-known story of Lady Jane Grey on its head. The book opens on sixteenth century England, or a magical version of it anyhow, which is torn apart by conflict between two opposing groups known as the E∂ians (Eth-ee-uhns) and Verities. The E∂ians, born with the ability to take on the form of a certain animal as well as their own human shape, are despised by the Verities (those without any sort of magical ability) who believe the E∂ian's magic to be an abomination. As most influential positions in the running of England used to fall to the hands of Verities, E∂ians were for a long time persecuted and forced to go into hiding if they wished to survive. That was, until King Henry VIII found that he himself was an E∂ian - he took on the shape of a lion in his fits of rage - and decided that E∂ians didn't deserve the cruel treatment they received at the hands of the Verities. Still, even after King Henry VIII's death, England is far from peaceful, what with frequent skirmishes and sometimes even more serious bloodshed occurring between the two groups, not to mention the anger and hatred simmering on either side.
Ruling this troubled England is the young King Edward VI, who as it so happens finds out that he is dying of the dreaded Affliction and doomed to cough himself to a rather uncomfortable death. Not only is it Edward's life that is in jeopardy, but the English throne itself, as the line of succession dictates that the kingdom shall fall to Edward's fiercely anti-E∂ian and surprisingly bloodthirsty sister Mary upon his death. Not wanting to plunge England into more bloody conflict under his sister's rule, Edward instead leaves the throne to his highly bookish cousin and close friend, Lady Jane Grey. However, this red-haired and strong-willed heroine does not want to rule England - especially as it entails marrying Gifford Dudley (G), a man whom she's never even met in the entire course of her life…
But when Jane's marriage and the altered line of succession turn out to be a grab for the throne, and Edward appears to be dying of not-so-natural causes, Jane, Edward, and G must struggle against treacherous plots for power, bloodthirsty rulers, and their own E∂ian powers to do what is right for England.
If they don't all lose their heads in the process.
With devious villains, no lack of wit or romance, and lovable characters who will have readers cheering for them until the very end, My Lady Jane is everything one could hope for in a young adult book - and more. Executed to perfection, the alternating points of view of Jane, Edward, and G give each character a wonderfully distinct personality, and by the end of the book the reader feels that they know each of them as well as a close friend. The writing flows seamlessly between humor, romance, and tense, heart-pounding danger that kept me fervidly turning page after page. The magical conflict of the E∂ians and the Verities gives a playful nod towards the real-life one between the Protestants and Catholics, and is uniquely suited to this fictional England. All in all, My Lady Jane is an absolute must-read for fans of history, comedy, romance, and of course, magic.
-Review written by Alannah, Age 14
Addendum by NYMBC Coordinator: If you like My Lady Jane, check out My Plain Jane, a twist on the classic Jane Eyre, by the same authors.