Submitted by
YAatBooksInc
on Fri, 11/02/2018 - 12:00am
---
Teen Advisory Board Member Ava Reviews Kingdom of the Blazing Phoenix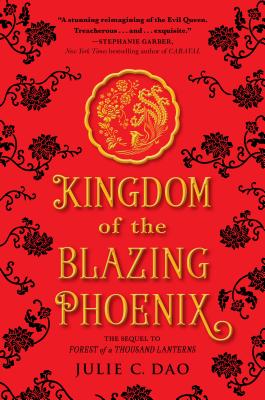 Kingdom of the Blazing Phoenix by Julie C. Dao
The sequel to Forest of a Thousand Lanterns switches to Jade's perspective. The wicked but stunning Empress Xifeng is slowly poisoning the Emperor, seeking to control the Great Forest. But the rightful heir to the throne, Jade, is determined to put an end to her reign, especially after Xifeng tries killing Jade, the one prophesied to bring her downfall. Using the stories her nursemaid taught her, Jade must collect five relics to raise the Dragon Guard, the only way to dethrone the Empress.
Though YA fairytale-retellings were my go-to for quite some time, I eventually lost interest. Well, at least until I read and reread Julie C. Dao's Snow White spinoffs. Not to mention, it's about time we have an all-Asian cast in an Asian-based fantasy world! While it's fantastic that the number of Asian in entertainment is rising, most of the time those sources (E.g. novels, movies, etc) feature the struggle in being an outcast in society as a result of not being white. But this novel takes a whole new turn, casting the characters in a fun plot where they don't have to struggle with their heritage, as being Asian is the norm.
Also, I love how the love interest defies stereotypes. Almost 100% of the time, the male love interest is this dark, brooding, handsome figure. But there are two stereotypes Dao defeats:
The love interest is Asian. Asian men have a history of been viewed as unmasculine, just as Asian women have a history of being overly-sexualized. Although this factor is sort of a given, as Dao's cast is entirely Asian anyway.

He has the height of a dwarf. Many men struggle with the idea of dating a woman who's taller than them, but this defies that expectation.
Love this fresh, diverse retelling of Snow White! It's filled with more plot twists than I can count on both hands. Recommended to fans of the Lunar Chronicles, Caraval, and people who want more diversity in literature.
-Review written by Ava, Age 14
Kingdom of the Blazing Phoenix hit stores November 6th. Haven't read Forest of a Thousand Lanterns yet? Find it here!