Submitted by
YAatBooksInc
on Tue, 03/19/2019 - 1:40pm
---
Teen Advisory Board Member Evgenia Reviews King of Scars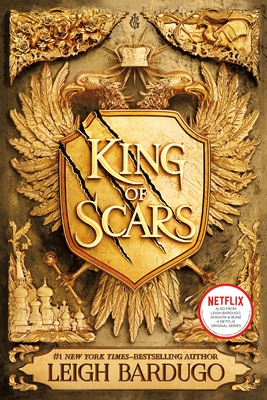 King of Scars by Leigh Bardugo
King of Scars is a triumphant return to Leigh Bardugo's Grishaverse, complete with plenty of engaging characters, danger, and excitement. The beginning of novel finds the beloved Nikolai Lantsov, King of Ravka, grappling with the events that occured in Siege and Storm, the conclusion to the author's other trilogy. Stuck with a dangerous secret to hide, he relies on Zoya, a lovely but abrasive Grisha (people with special powers, many of whom serve in the Ravkan army), to help him save Ravka and banish his inner demons. Further away, in Fjerda, Nina, a familiar face from Six of Crows, is struggling to overcome her grief and return to her old self. Undercover and in danger of being captured by Druskelle, ruthless witch hunters, she comes across a convent hiding a disturbing truth, a threat from her past, and a young woman desperately trying to hide her abilities as Grisha.
All of the intertwined plots were interesting, with the point of view alternating between Nikolai, Zoya, Nina, and Isaak, Nikolai's guard. This emphasis on various different characters showed the scenes from different angles and gave insight into the minds of all of the main characters.
As always, Bardugo's stunning world-building and vivid characters made this a delightfully immersive read. The politics and geography of this fantasy universe are well-defined and clear, making it feel more real. This world that Leigh Bardugo has created, with magic and mischief, is full of twists and turns and the characters that you cannot help but fall in love with.
From the fast-paced, surprise-filled beginning to the unexpected ending, prepare for an exciting journey through the palaces and countryside of Ravka and the frigid forests and fishing towns of Fjerda. With brilliant world-building and wonderful writing, King of Scars is certainly a must-read for fans of Bardugo's Grishaverse.
King of Scars is available in stores now. Haven't read the Grishaverse or Six of Crows series? You can find them on our shelves as well!