Submitted by
YAatBooksInc
on Sun, 04/22/2018 - 12:00am
---
Teen Advisory Board Member Amanda Reviews History Is All You Left Me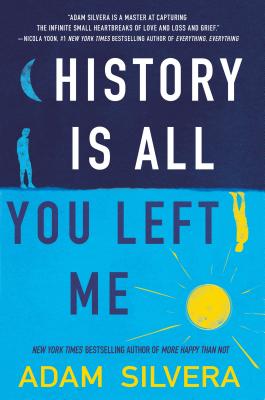 History Is All You Left Me by Adam Silvera
The novel, History Is All You Left Me, centers around Griffin after his ex-boyfriend, Theo, dies in a drowning accident. In order to let go of the love that he had, he must revisit the memories of the past. Throughout the story, Griffin recalls the times he had with Theo while navigating through bouts of grief, hurt and mental illness.
To say that this book was amazing is an understatement. The character development was spot on with Griffin's mindset drastically changing from the start to the end. Griffin describes his thoughts so vividly that you could feel the love and hurt that he feels throughout the book.
I loved the writing style, which was written in two different ways, past and present. The sections describing the past showed Griffin reminiscing about the times he had with Theo. These chapters had a lighthearted, happy vibe to them and were fun to read. On the flip side, the present chapters added sorrowful feeling to the story but had subtle amounts of hope sprinkled in. Every part of the book was so descriptive, and I never put it down when I started reading it.
History Is All You Left Me is an unforgettable book which combines both the past and the present in order to hope for the future. This book deals with topics from anywhere between love and grief, and the manner in which it is executed was perfect. I absolutely loved this book and the characters within, and would definitely recommend anyone who likes to read realistic fiction books.
-Review written by Amanda, Age 14
You can find Adam Silvera's other books here.