Submitted by
NYMBC
on Wed, 01/03/2018 - 2:27pm
---
The following Review is by Teen Advisory Board President, Ava.
Ava is 14 years old and her favorite books include Under a Painted Sky, Outrun the Moon, and Graceling.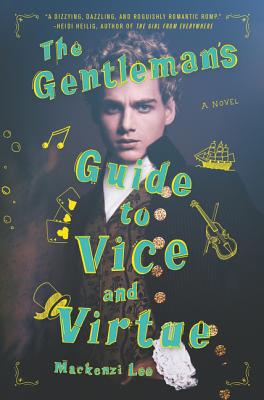 The Gentleman's Guide to Vice and Virtue by Mackenzi Lee
"In Mackenzie Lee's novel The Gentleman's Guide to Vice and Virtue, Henry "Monty" Montague, the protagonist, sets out on a final adventure around Europe with his friend and his sister. But when a gang of bandits attack them, the Grand Tour soon becomes a mission to end the evils that threaten their lives. At the same time, Monty must deal with his developing feelings for his best friend, who he may never see again.
The Gentleman's Guide to Vice and Virtue is for fans of My Lady Jane. With larger than life characters, Lee knows how to make them realistic, illustrating both strengths and flaws that make them human. The character arcs flow smoothly and satisfy even the most reluctant of readers.
Lee perfectly fits together words into action-packed sentences. The vivid descriptions of the character traits and setting paint clear pictures when read and never cease to stop until the very last page. I especially love the dialogue! Wit is sprinkled throughout the pages in the characters' speech, and no extraneous words clog up the sentences.
Overall, if you want a book with great characters often underrepresented in YA, look no further! Lee is a great writer, and I will read any book she throws my way!"
The Gentleman's Guide to Vice and Viture is in stores now!