Submitted by
YAatBooksInc
on Thu, 01/03/2019 - 12:00am
---
Teen Advisory Board Member Amanda Reviews Enclave.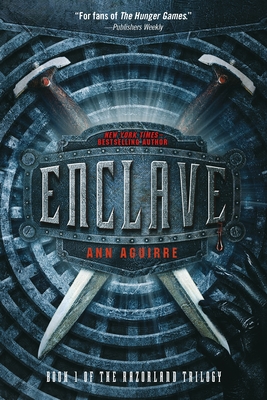 Enclave by Ann Aguirre
When war and plague rule the land, the inhabitants of New York City must move underground into enclaves in order to survive. It's no easy life, fighting for your survival and with the average life expectancy being in the 20s. With life underground and the knowledge of everything known before destroyed, new jobs and statuses have to be created. Classified into three main sectors, the hunters, the builders, and the breeders, the human race is simply surviving. Generations after moving underground, Deuce is born. On her 15th birthday, everything she has been working for is achieved as she finally becomes a huntress, trained to hunt down food and defend the enclave from the Freaks, or the mutated humans after the war. Being paired with Fade, a boy from the Topside, she finally sees the corruption and secrets the enclave had hidden for so long.
Dystopian is one of my favorite genres to read because of the world-building, and Enclave set up the tone perfectly. Deuce is caring, passionate, and strong, and won't take nonsense from anyone. I loved her character and the way she grew up not during a traumatic post-apocalypse event, but instead generations after. Rather than waiting for some military official or such in a world where the average person doesn't know how to fight, she grows up knowing that she trained for such a moment and that no one could take that from her.
On the flip side, Deuce isn't without anxiety and flaws but learns how to deal with them in her own way. Many doubted her because her parents weren't hunters and she didn't have the experience in her blood. Although she has trained to fight in the tunnels, she has never been in such a situation where any step could be fatal. This creates human worries and stress about not being enough, something which many can relate to, huntress or not. Instead of some untouchable female heroine, Deuce realizes the flaws in her ambition and takes a step back.
Although there is certainly a lot of romance, the plot focuses the most on Deuce. However, where there is romance it's sweet and caring in a unique way. The relationship between Deuce and Fade is slow and stilted, but they definitely care for each other. It's a lot of waiting for the other to act first, capturing the essence of teenage love. It's romantic, genuine, and angsty.
This book could honestly be perfect for any readers of YA, no matter what genre. Love, grief, history, future - it's all here. Specifically, fans of Throne of Glass and And I Darken should totally give Enclave a try because of the similar elements they share.