Submitted by
YAatBooksInc
on Mon, 10/22/2018 - 9:55am
---
Teen Advisory Board Member Amanda Reviews A Court of Thorns and Roses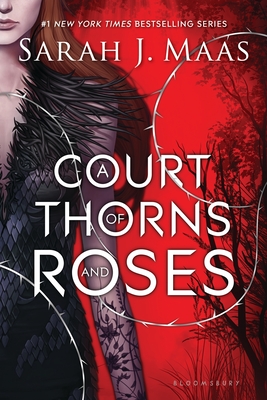 A Court of Thorns and Roses by Sarah J. Maas
A Court of Thorns and Roses is the explosive start to an amazingly written series filled with love, betrayal, and hatred. Feyre Archeron, a peasant human girl, hunts in order to support her family. Killing a deer and what she assumes to be a wolf, a faerie lord takes her away in vengeance for his friend. She learns of the courts of the fae, and navigates through politics, hatred, and an unidentifiable plague spreading throughout the courts. Her choices dictate the fate for all faeries - and her human family as well.
I came here from her Throne of Glass series and stayed for the beautifully written plot, fascinating characters, and general amazingness this story has to offer. Every character has such a diverse background, and it shows in her writing. I loved how each character had a motive - and a role to play. Not all life is good, not all shadow is bad, and the emotions these characters invoke is something that most authors wish to do.
Another part I really liked was the politics of the courts of fae, and how different they were from those of humans. Feyre grew up not learning how to read or write, and isn't educated in book smarts. She had to learn to fend for herself, which is a huge culture shock when she enters the land of the faeries. The cold descriptions of the reality of Feyre's life compared to the illustrious court of the High Fae is harsh and contradicting, and it's absolutely beautiful.
If I am to be perfectly honest, my favorite part of all was the character development, and how I was emotionally invested in the characters. If you like fantasy stories with the opportunity to ship people, you'll definitely love this series. Teen or adult, everyone could find someone they love, and I wholeheartedly recommend this book to any readers YA or above.
-Review written by Amanda, Age 14
You can find all of Sarah J. Maas' work, including the Throne of Glass series, here.