Submitted by
NYMBC
on Wed, 12/27/2017 - 1:12pm
---
Teen Advisory Board Member Emily Reviews All We Can Do Is Wait
Emily is 14 and her favorite books include, Wonder by R.J. Palacio, Alexander Hamilton by Ron Chernow, and The Fault in Our Stars by John Green.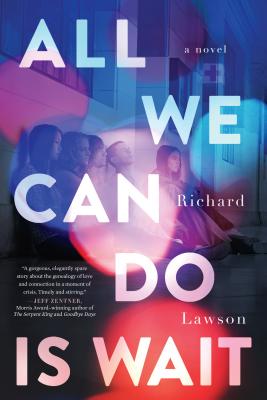 All We Can Do Is Wait by Richard Lawson
"In the aftermath of the collapse of a bridge, a group of teens meet in the waiting room of Massachusetts General Hospital. Jason and Alexa are siblings, whose relationship is rocky at best. Scott's relationship with his girlfriend, Aimee, is… complicated, but he knows if he can just talk to her then everything will be okay. Skyler's sister, Kate, has been her support system ever since her mom abandoned the two of them. As for Morgan, well, her dad hasn't been okay for awhile. As these teens come to grips with the tragedy that has been forced upon them, tension is high, and age-old secrets and guilt will resurface.
All We Can Do Is Wait is heart-wrenching as you watch each character begin to grieve, regardless of how the victim they were waiting for turns out in the end. Every character is complex, engaging, and likeable. The story is told like a thriller, with each character's backstory being revealed as the story progresses. As the reader gets closer and closer to the big reveal, secrets and guilt surface, causing each character to react in different ways. Alexis, Jason, Skyler, Scott, and Morgan each have their own developed backstory, and, since the story is told through flashbacks while simultaneously moving through the present, each person's reaction is justified by their history. All We Can Do Is Wait covers important topics, like love, loss, and growing up, and readers will be quickly drawn to the main characters."
All We Can Do is Wait available February 6th