Submitted by
YAatBooksInc
on Mon, 06/27/2016 - 1:05pm
For those of you who made it out to Stacey Lee's Launch Party for Outrun the Moon, you've already met the wonderful Stephanie Garber. It was an honor to stand beside her and gush about her friend and critique partner's work. Now we're excited to talk a bit more about Stephanie's first novel, Caraval. Though it's not out until January 2017, there is already a ton of buzz about it in the bookselling world!
She was kind enough to answer a few questions about Caraval and her experience writing it for us!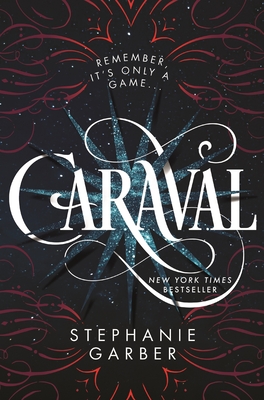 "I wanted it to feel like a Baz Lurhman movie and a Florence and the Machine song."
1. Did you have an "elevator pitch" for Caraval? Did it change a lot?
I don't know that I ever had an "elevator pitch", but I did write a query letter for Caraval, (which is basically a longer pitch) and I think I revised it at least one-hundred times. So it changed a lot. I really wanted to make sure I got it right—which you'll understand after you read my answer to the next question.
2. What was the hardest part of getting published for you?
Querying, and trying to get an agent was immensely challenging. For people who aren't familiar with the traditional publishing process, most publishers require that manuscripts be submitted by an agent before they will even look at them. I won't go into detail about my very painful querying experiences, but I will say that before I wrote Caraval, and signed with my current agent, I wrote 5 other books, queried 3 of them, and received somewhere around 200 rejections.
3. Who has been your biggest supporter?
My family, especially my parents—who've read every manuscript I've ever written. They supported me and believed in my dream when many other people told them they shouldn't. When I queried the first book I wrote I couldn't even get a literary agent to look at it, but rather than telling me to give up, I remember one day my dad said, "Maybe you just need to write another book."
4. What was your inspiration for Caraval?
Caraval was inspired by pretty much all of my favorite things—I wanted to tell a story that I would want to live inside. My hope was to create a beautiful-over-the-top-place, full of magic and romance and wonder. I wanted it to feel like a Baz Lurhman movie and a Florence and the Machine song.
5. Are any of your characters based off of friends or old acquaintances? You don't' have to say who….
Haha! This is a great question. None of my characters are based on anyone I know in real life. However, I do have a younger sister, she's not anything like the younger sister in the book, but the close sister relationship in Caraval is influenced by my very close relationship with my sister.
7. How many publishers did you go to before it was picked up?
Caraval actually sold shockingly fast. More than one editor read it the first night my agent sent it out, and eight different editors bid on it when it went to auction.
8. Who was your favorite character to write?
I had fun with a lot of the characters in this book, but I probably had the most fun creating Legend. From the moment I decided there was a character named Legend, I knew I would have a good time with him. I also loved writing Donatella, my main character's sister. She is wild and adventurous and says all sorts of things that I would never say out loud, so I especially loved playing with her dialogue.
9. What are some of your favorite books or authors?
Daughter of Smoke and Bone by Laini Taylor
Melina Marchetta—I love all her books, but her fantasy series, the Lumatere Chronicles are my favorite
Sarah J. Maas
Poison Study by Maria V Snyder
The Scorpio Races by Maggie Stiefvater
The Winner's Series by Marie Rutkoski
The Kiss of Deception and The Heart of Betrayal by Mary E Pearson, and I'm sure once I ready The Beauty of Darkness it will be on this list as well.
10. Do you write in a linear fashion or do you jump around?
I have theory that if I can surprise myself with my writing, it will be more likely to surprise readers. So, I usually write in a linear fashion, because I try to keep what happens next a surprise, until I actually write it.
11. Did you ever want to give up?
I love writing so much there was a never a moment where I truly wanted to
give up. But, when I was looking for an agent to represent Caraval I decided that if it didn't sell, I was going to step away from the writing. Not because I wanted to give up, but because it was such a huge part of my life, I feared it no longer made sense to keep going at it the way I was, if I couldn't sell a book. I'm not sure if I would have actually been able to step away, but that had been my plan.
12. A coworker of mine saw you at BEA and heard that you had to move back into your parents' house to finish the book, how hard was that?
It wasn't difficult at first. I actually felt blessed that I could move in with them and pursue my dream. However, after that initial euphoria wore off there were many times where I struggled emotionally with the choice I'd made, because I wasn't doing what most people my age were doing, so there many times where I felt like a failure. And I know a lot of people thought there was something wrong with me because I chose to move in with them. But in the end I'm not only grateful they gave me the opportunity to pursue my dream, I'm thankful that I got to spend this extra time with them, because I know I won't always have them.
13. What are you currently reading, and/or currently obsessed with?
My current obsession is A Torch Against the Night, which is the sequel to An Ember in the Ashes by Sabaa Tahir. It's so good! I honestly feel as if I can't give this book adequate praise, without being spoilery. So, I'm just going to say all fantasy lovers need to read this series.
Currently I'm reading Heartless by Marissa Meyer, which I am loving! Her spin on the world of Alice In Wonderland is so fun, her characterizations are excellent, and her writing is fantastic.
Hopefully Books Inc. and Not Your Mother's Bookclub will have the opportunity to bring Stephanie Garber back into our stores in celebration of Caraval! Stay tuned!