Submitted by
YAatBooksInc
on Fri, 04/03/2015 - 9:13am
Renee Ahdieh is a graduate of the University of North Carolina at Chapel Hill. In her spare time, she likes to dance salsa and collect shoes. She is passionate about all kinds of curry, rescue dogs, and college basketball. The first few years of her life were spent in a high-rise in South Korea; consequently, Renee enjoys having her head in the clouds. She lives in Charlotte, North Carolina, with her husband and their tiny overlord of a dog. She is the author ofThe Wrath and the Dawn.
1. You've taken the classic tale of Arabian Nights, thrown in some Beauty and the Beast and put your own twist on it. How difficult is it to take something that's so well known and make it your own?
I definitely found it daunting at first. But something my agent said to me early on really stuck with me and helped me push through—she said I was too close to the source material and that I needed to take a step back and make it my own. In general, I think there is a lot of pressure on people to perform to a certain standard, regardless of their chosen profession. It helps a great deal to realize that the only standard you should be measuring yourself by is your own—how well can you write this particular story? Does your work do you justice?
2. Khalid, the boy-king is such a deep character. How much time did you spend developing his character? Was there ever a time you tried to mold him into something different that just didn't work for you or your story?
Thank you so much for saying so! I really enjoyed developing Khalid as a character. One of the first things I do even before I begin plotting a story is spend time creating character arcs. I make a web for each main character, and I put specific traits I'd like that character to embody around that character's name. Since Khalid was such an important part of the narrative, I did spend a large amount of time developing him as a character. There were a few times in the story where I wanted him to do or say things that didn't quite fit with how I'd developed him, but I was always able to go back to the initial web I'd created and remind myself of his specific traits. So that was extremely helpful.
3. What inspired your decision to write this story?
Many things inspired me to write this book, but two things in particular always stick out to me. The first is my husband's family. They're Persian, and the story of Scheherazade is actually Persian in origin. My in-laws have beautiful pieces of art and tapestry all throughout their home, and I always wanted to write a story to reflect the beauty of their culture and the richness of its history. The second source of inspiration was my own upbringing. As a child of mixed race, I was constantly searching for narratives highlighting different backgrounds. So I knew when it was time for me to write a story, I wanted to write one that brought a different world to life for younger readers.
4. While Khorasan doesn't exist anymore (it was located near Iran and Afghanistan) it was a real place. How much of your Khorasan is based off of the ancient area? What kind of research did you have to do?
Since I knew I wanted to base my fantasy world on ancient Persia, I did a good bit of research into Persian history to develop the world in THE WRATH AND THE DAWN. Both Khorasan and Parthia were names for parts of what is now present-day Iran. Much of the geography in the book is rooted in history, but I've definitely taken some liberty with it!
5. If The Wrath and the Dawn were made into a film, who would you like to see cast?
This is such a fun question! Of course I have some favorite actors and actresses in mind, but since the book is actually being shopped for film, I think I'll keep silent on that for now. The most important thing for me—if the book were made into a film—would be that the actors/actresses cast adequately reflected the diversity written into the book.
6. What's your go-to method for getting yourself out of writer's block?
I don't believe in writer's block. But I do believe in writing oneself into a corner. For me, that usually means I'm forcing myself to write something that isn't organic. The best thing to do is to take a step back to either find a new source of inspiration or re-evaluate what it is I'm doing. I can always put something on the page. Sometimes it's terrible and needs to be discarded in its entirety, but I can always write something. I don't, however, believe you should force yourself to write something that isn't working for you. If you can't write the story you're working on, write something else. And if you need a break, take a break.
7. Who was your favorite character to write? Your least favorite?
My favorite character to write was probably Khalid. I also really enjoyed writing Shazi. I didn't have a least favorite character, but writing Jahandar was difficult at times because he was such a sad character, both inside and out.
8. Are you a pantser or a plotter?
An insane plotter. Seriously. My plots are biblically long.
9. Coffee or tea?
Tea. Always tea.
10. Favorite movie? TV show? Band?
Movie: The Lord of the Rings: The Two Towers, Singin' in the Rain; TV show: Sherlock, Game of Thrones, Empire, Avatar: The Last Airbender; Band: Metallica, Explosions in the Sky, M83, Radiohead, Bassnectar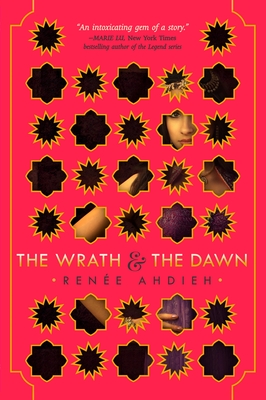 A sumptuous and epically told love story inspired by "A Thousand and One Nights"
Every dawn brings horror to a different family in a land ruled by a killer. Khalid, the eighteen-year-old Caliph of Khorasan, takes a new bride each night only to have her executed at sunrise. So it is a suspicious surprise when sixteen-year-old Shahrzad volunteers to marry Khalid. But she does so with a clever plan to stay alive and exact revenge on the Caliph for the murder of her best friend and countless other girls. Shazi's wit and will, indeed, get her through to the dawn that no others have seen, but with a catch . . . she's falling in love with the very boy who killed her dearest friend.
She discovers that the murderous boy-king is not all that he seems and neither are the deaths of so many girls. Shazi is determined to uncover the reason for the murders and to break the cycle once and for all.