Submitted by
NYMBC
on Wed, 02/11/2015 - 9:38am
Arwen Elys Dayton spends months doing research for her stories. Her explorations have taken her around the world to places like the Great Pyramid (which she explored by a single fading flashlight when researching Resurrection), Hong Kong and its many islands, and lots of ruined castles in Scotland. She enjoys creating complete worlds inhabited by characters who charm, frustrate or inspire.
Arwen lives with her husband and their three children on the West Coast of the United States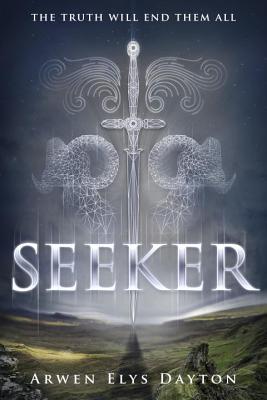 The night Quin Kincaid takes her Oath, she will become what she has trained to be her entire life. She will become a Seeker. This is her legacy, and it is an honor.
As a Seeker, Quin will fight beside her two closest companions, Shinobu and John, to protect the weak and the wronged. Together they will stand for light in a shadowy world.
And she'll be with the boy she loves--who's also her best friend.
But the night Quin takes her Oath, everything changes.
Being a Seeker is not what she thought. Her family is not what she thought. Even the boy she loves is not who she thought.
And now it's too late to walk away.
1) What was your inspiration for writing Seeker?
The main character in Seeker, Quin Kincaid, showed up in my mind one day and simply wouldn't leave. Quin brought with her a complicated family situation and bunch of unpleasant emotions. I saw immediately that she lived in Scotland. I realized early on that she was a talented and optimistic girl, but I had the sinking feeling that her life wasn't going to go at all the way she wanted it to.
Around the same time, I was reading The Elegant Universe, by Brian Greene, which is a wonderful book on physics, written to give anyone a basic grasp of the subject, and I became fascinated with string theory. If string theory is true, and there are many "extra" dimensions curled up at every point in the universe, how might one access those dimensions? That line of thought was the first step in creating the special knowledge and skills of Seekers as a group.
2) I've heard you spend a lot of time doing research while writing; what kind of research did you do for Seeker and how much time did you spend on it?
I go down many different research paths when a story is taking shape in my head. I like to follow any thread that interests me, even if it doesn't end up being directly relevant to the story I tell. While I began to see glimpses of Seeker, I researched all sorts of things, like the history of London Bridge, the early days of Hong Kong, how swords are made, and stranger topics like royal murders throughout history (which was basically a study of family members plotting against and then killing each other(!)).
The best part of researching Seeker was traveling to Scotland and Hong Kong. They are fascinating places on their own, each with a strong and undeniable identity, but there's something about the difference between them that particularly inspires me. In many ways the city of Hong Kong and the Scottish countryside are opposites of each other. Visiting them and imagining both places in the same story created a friction in my mind that gave Seeker a lot of its energy—ancient and timeless (Scotland) meets
modern and ever-changing (Hong Kong). I love the contrast.
From the first moment I began to imagine this book, I saw Quin in Scotland. It was her natural place. And from the first moment I set foot in Hong Kong, I began to see a large part of Seeker unfolding there in its crowded, dynamic, futuristic streets.
3) Seeker is definitely a fantasy novel. Would you consider writing something set in a contemporary world?
Yes, absolutely. Unfortunately, my mind seems to twist even our contemporary world into something a little strange. I have an autobiographical idea based on growing up at a boarding school (which I did), but already it's growing into something a bit fantastical, even while remaining heavily based in things that actually happened. I suppose I get bored with the "real" world too easily. (The fact that I put quotes around real, as though the real world isn't actually real at all, is probably not a good sign.)
4) Are any of your characters based off of people you know?
Well...yes and no. In some ways this book—with four teenagers as the main characters—allowed me to take the worst moments from my own teen years and make them much, much worse than they were, and then force my characters to live through them.
In Seeker, Quin and John and Shinobu have all the problems of teenagers, but their lives have much higher stakes and more serious consequences. The hardest moments in the book are sort of a distillation of those teenage moments that made me cringe or cry or want to hide—but they've been expanded into events that are huge, dangerous, life-threatening.
Aspects of Quin are probably based on my own teen years—although she's much more interesting and cool than I ever was. And there are elements in John and Quin's father that have some basis in a couple of people who were in my life at one point. Once I began writing the book, however, all of these characters stopped being anyone but themselves!
5) If your book is made into a film, who would you like to see cast?
I would love to let my imagination run wild, but I also want to be considerate of the actors who are ultimately cast in the parts—I don't want them to feel that they weren't my choice! So it's probably better if I stay mum on this one.
6) Are there any authors or novels that have inspired your writing?
As a young reader and writer, I was first inspired by C.S. Lewis. Reading the Narnia series over and over as a kid sent my imagination into overdrive. It was an entire world—actually many worlds—created in the author's mind, and yet it was almost as real to me as my own life.
Now I read and love so many genres, particularly historical fiction, contemporary fiction, science fiction and fantasy. Some books I've really enjoyed this past year are We Were Liars, Outlander, Legend, The Name of the Wind, and Miss Peregrine's Home for Peculiar Children.
7) If you weren't an author, what would be your ideal career?
Could I still do some other sort of writing? If so, I'd want to be a travel writer, though it's hard to imagine doing that without it leading to ideas for novels...
If I have to forgo writing altogether, I would be a teacher. I love working with kids.
8) Are you a pantser or a plotter?
I can work either way, but for Seeker, I spent a lot of time plotting before I wrote. (That sounds rather nefarious, doesn't it?) Because a lot happens in this book, and it happens in several different points of view, I wanted to be as efficient with chapters as I could. That's a lot easier if you plot things out ahead of time.
I have an idea for a very different sort of series after this one, and I think I may be able to be more of a pantser for that one. We'll see!
9) Coffee or tea?
Coffee coffee coffee coffee coffee. Wait...no. The truth is that coffee and I care about each other very deeply and we will always be good friends and have lovely memories of each other, but we've mutually decided that we should live apart for a while. I am crazy when I drink coffee. With fully leaded coffee, I will start randomly calling up everyone in my address book because, "It's been so long and we really should chat! ... Yes, I realize another dentist is providing my dental care now, but that doesn't mean you and I can't be friends, Dr. Agami..." So, most of the time, it's no on the coffee. (I can have decaf now and then if I'm very well behaved.)
Luckily I also like tea. My favorite tea for writing is a combination of licorice tea and Rooibos, with a little sweetener (I like stevia, but honey is also great). I can drink pots of this without turning into a lunatic.
10) Favorite movie? TV show? Band?
These are hard questions to answer! I love so many movies and listen to so much music...but here goes:
Music: lately I have been listening to a lot of Phantogram, Ed Sheeran, Manchester Orchestra and Hozier.
Movies: I tried to come up with a recent favorite but realized that would be impossible without spending days making lists. So instead, here are a bunch of movies I enjoyed this year: Guardians of the Galaxy, Interstellar, The Theory of Everything, Big Hero 6, Mockingjay, The Maze Runner, Divergent, The Grand Budapest Hotel, The Book of Life, Wild, X-Men: Days of Future Past, The Fault in our Stars, Birdman, Begin Again... I could go on, but that's a lot!
TV: Game of Thrones and Fargo!