Submitted by
Gfundaro
on Fri, 06/21/2019 - 10:04am
- By Ava Lee and Amanda Kay
---
To celebrate Ariana Grande's 26th birthday, we just had to find YA books that would suit each of the tracks on Sweetener. Here are fifteen books to read based on their Sweetener counterpart.
Note: MSL=Most Suitable Lyric
1. Raindrops (an angel cried) might be watering the potato plantation, but the wealthy Hemmings sure aren't DIGging them up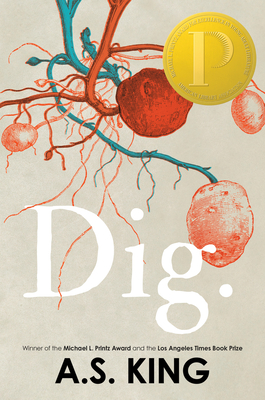 The Shoveler, the Freak, CanIHelpYou?, Loretta the Flea-Circus Ring Mistress, and First-Class Malcolm. These are the five teenagers lost in the Hemmings family's maze of tangled secrets. Only a generation removed from being simple Pennsylvania potato farmers, Gottfried and Marla Hemmings managed to trade digging spuds for developing subdivisions and now sit atop a seven-figure bank account, wealth they've declined to pass on to their adult children or their teenage grandchildren.
"Because we want them to thrive," Marla always says.
What does thriving look like? Like carrying a snow shovel everywhere. Like selling pot at the Arby's drive-thru window. Like a first class ticket to Jamaica between cancer treatments. Like a flea-circus in a doublewide. Like the GPS coordinates to a mound of dirt in a New Jersey forest.
As the rot just beneath the surface of the Hemmings precious white suburban respectability begins to spread, the far-flung grandchildren gradually find their ways back to each other, just in time to uncover the terrible cost of maintaining the family name.
The grandchildren's tears may be falling like raindrops, but Gottfried and Marla Hemming's big bucks sure aren't.
MSL: The day you left me, an angel cried
By A.S. King
2. HOT DOG GIRL's summer is blazed up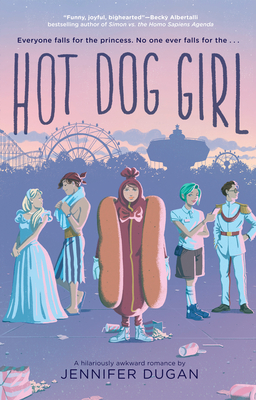 Elouise (Lou) Parker is determined to have the absolute best, most impossibly epic summer of her life. There are just a few things standing in her way:
* She's landed a job at Magic Castle Playland . . . as a giant dancing hot dog.
* Her crush, the dreamy Diving Pirate Nick, already has a girlfriend, who is literally the Princess of the park. But Lou's never liked anyone, guy or otherwise, this much before, and now she wants a chance at her own happily ever after.
* Her best friend, Seeley, the carousel operator, who's always been up for anything, suddenly isn't when it comes to Lou's quest to set her up with the perfect girl or Lou's scheme to get close to Nick.
* And it turns out that this will be their last summer at Magic Castle Playland--ever--unless she can find a way to stop it from closing.
Jennifer Dugan's sparkling debut coming-of-age queer romance stars a princess, a pirate, a hot dog, and a carousel operator who find love--and themselves--in unexpected people and unforgettable places.
In the blazing heat of summer (see what I did there?), everything that can go wrong, will go wrong. But summer is the most magical season—a for good reason. If you aren't careful, you'll start falling in love.
MSL: Shawty, you can get blazed/Sleep if you want, and wake up in love again
By Jennifer Dugan
3."the light is coming, and SOMEDAY WE WILL FLY," Lillia reassures Naomi.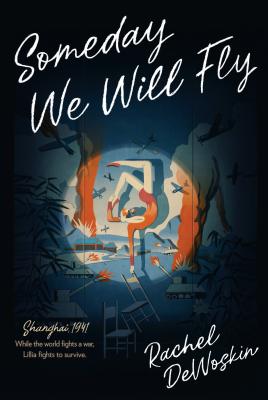 Warsaw, Poland. The year is 1940 and Lillia is 15 when her mother, Alenka, disappears and her father flees with Lillia and her younger sister, Naomi, to Shanghai, one of the few places that will accept Jews without visas. There they struggle to make a life; they have no money, there is little work, no decent place to live, a culture that doesn't understand them. And always the worry about Alenka. How will she find them? Is she still alive?
Meanwhile Lillia is growing up, trying to care for Naomi, whose development is frighteningly slow, in part from malnourishment. Lillia finds an outlet for her artistic talent by making puppets, remembering the happy days in Warsaw when they were circus performers. She attends school sporadically, makes friends with Wei, a Chinese boy, and finds work as a performer at a "gentlemen's club" without her father's knowledge.
But meanwhile the conflict grows more intense as the Americans declare war and the Japanese force the Americans in Shanghai into camps. More bombing, more death. Can they survive, caught in the crossfire?
In such dark times, though Lillia reassures Naomi the light is coming, she'll need to remember to tell herself that, too.
MSL: The light is coming to give back everything the darkness stole
By Rachel DeWoskin
4. R.E.M dreams are for reliving things AGAIN, BUT BETTER.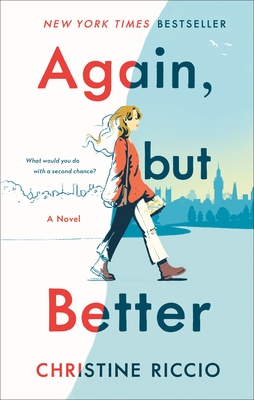 Shane has been doing college all wrong. Pre-med, stellar grades, and happy parents…sounds ideal—but Shane's made zero friends, goes home every weekend, and romance…what's that?
Her life has been dorm, dining hall, class, repeat. Time's a ticking, and she needs a change—there's nothing like moving to a new country to really mix things up. Shane signs up for a semester abroad in London. She's going to right all her college mistakes: make friends, pursue boys, and find adventure!
Easier said than done. She is soon faced with the complicated realities of living outside her bubble, and when self-doubt sneaks in, her new life starts to fall apart.
Shane comes to find that, with the right amount of courage and determination one can conquer anything. Throw in some fate and a touch of magic—the possibilities are endless.
Shane would much prefer to live in her R.E.M dreams of an adventure than complicated reality.
MSL: 'Cause you're such a dream (does this end?)/If you can believe, you're such a dream to me
By Christine Riccio
5. Aphrodite's tale about the LOVELY WAR will convince you God is a woman.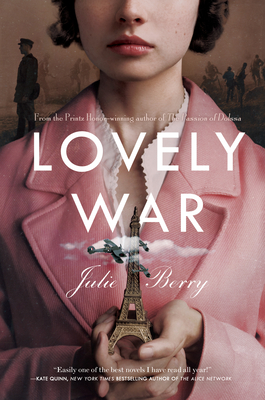 It's 1917, and World War I is at its zenith when Hazel and James first catch sight of each other at a London party. She's a shy and talented pianist; he's a newly minted soldier with dreams of becoming an architect. When they fall in love, it's immediate and deep—and cut short when James is shipped off to the killing fields.
Aubrey Edwards is also headed toward the trenches. A gifted musician who's played Carnegie Hall, he's a member of the 15th New York Infantry, an all-African-American regiment being sent to Europe to help end the Great War. Love is the last thing on his mind. But that's before he meets Colette Fournier, a Belgian chanteuse who's already survived unspeakable tragedy at the hands of the Germans.
Thirty years after these four lovers' fates collide, the Greek goddess Aphrodite tells their stories to her husband, Hephaestus, and her lover, Ares, in a luxe Manhattan hotel room at the height of World War II. She seeks to answer the age-old question: Why are Love and War eternally drawn to one another? But her quest for a conclusion that will satisfy her jealous husband uncovers a multi-threaded tale of prejudice, trauma, and music and reveals that War is no match for the power of Love.
Will LOVELY WAR make mortals finally believe God is a woman? Aphrodite is nodding coyly.
MSL: My one, when all is said and done/You'll believe God is a woman
By Julie Berry
6. The popularity of THE DOWNSTAIRS GIRL's advice column is her sweetener in bitter times.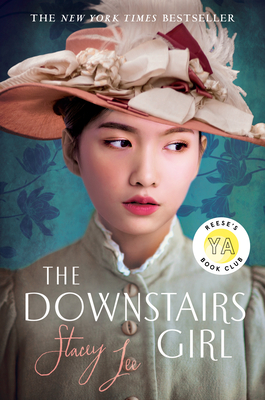 By day, seventeen-year-old Jo Kuan works as a lady's maid for the cruel daughter of one of the wealthiest men in Atlanta. But by night, Jo moonlights as the pseudonymous author of a newspaper advice column for the genteel Southern lady, "Dear Miss Sweetie." When her column becomes wildly popular, she uses the power of the pen to address some of society's ills, but she's not prepared for the backlash that follows when her column challenges fixed ideas about race and gender.
While her opponents clamor to uncover the secret identity of Miss Sweetie, a mysterious letter sets Jo off on a search for her own past and the parents who abandoned her as a baby. But when her efforts put her in the crosshairs of Atlanta's most notorious criminal, Jo must decide whether she, a girl used to living in the shadows, is ready to step into the light.
Though discrimination makes life bitter for the Chinese in Atlanta, Jo Kuan's advice column is the sweetener in her suffering. But will everything change for worse when a mysterious letter threatens not only her advice column, but her life?
MSL: When life deals us cards/Make everything taste like it is salt/Then you come through like the sweetener you are/To bring the bitter taste to a halt
By Stacey Lee
7. THE TRUTH AND LIES OF ELLA BLACK don't turn out to be quite successful...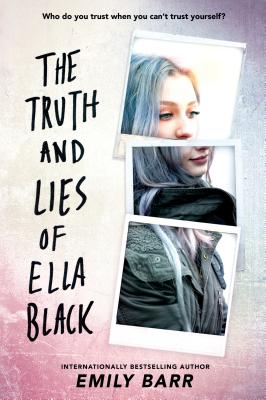 Ella Black seems to live the life most other seventeen-year-olds would kill for . . .
Until one day, telling her nothing, her parents whisk her off to Rio de Janeiro. Determined to find out why, Ella takes her chance and searches through their things.
And realises her life has been a lie.
Her mother and father aren't hers at all. Unable to comprehend the truth, Ella runs away, to the one place they'll never think to look - the favelas.
But there she learns a terrible secret - the truth about her real parents and their past. And the truth about a mother, desperate for a daughter taken from her seventeen years ago . . .
Ella thinks that her parents are successful, but are they truly? This book will keep you waiting on the edge of your seat to find out what will happen!
MSL: Yeah, it feels so good to be so young/And have this fun and be successful
By Emily Barr
8. I swear everytime, THESE WITCHES DON'T BURN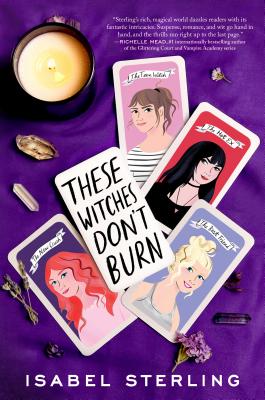 Hannah's a witch, but not the kind you're thinking of. She's the real deal, an Elemental with the power to control fire, earth, water, and air. But even though she lives in Salem, Massachusetts, her magic is a secret she has to keep to herself. If she's ever caught using it in front of a Reg (read: non-witch), she could lose it. For good. So, Hannah spends most of her time avoiding her ex-girlfriend (and fellow Elemental Witch) Veronica, hanging out with her best friend, and working at the Fly by Night Cauldron selling candles and crystals to tourists, goths, and local Wiccans.
But dealing with her ex is the least of Hannah's concerns when a terrifying blood ritual interrupts the end-of-school-year bonfire. Evidence of dark magic begins to appear all over Salem, and Hannah's sure it's the work of a deadly Blood Witch. The issue is, her coven is less than convinced, forcing Hannah to team up with the last person she wants to see: Veronica.
While the pair attempt to smoke out the Blood Witch at a house party, Hannah meets Morgan, a cute new ballerina in town. But trying to date amid a supernatural crisis is easier said than done, and Hannah will have to test the limits of her power if she's going to save her coven and get the girl, especially when the attacks on Salem's witches become deadlier by the day.
Hannah definitely doesn't want to have to work with Veronica, but she still has to see her practically everytime something goes wrong. The synopsis itself should be enough to convince you to read this book, but if it isn't, then trust us when we say that this book is flawlessly dramatic and a definite page-turner for sure.
MSL: Why, oh why does God keep bringing me back to you?
By Isabel Sterling
9. No matter HOW IT FEELS TO FLOAT, just keep breathin.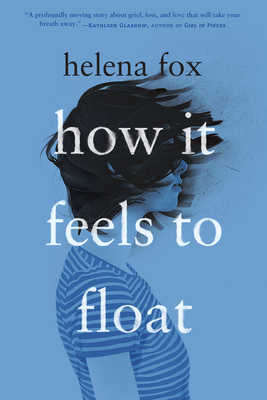 Biz knows how to float. She has her people, her posse, her mom and the twins. She has Grace. And she has her dad, who tells her about the little kid she was, who loves her so hard, and who shouldn't be here but is. So Biz doesn't tell anyone anything. Not about her dark, runaway thoughts, not about kissing Grace or noticing Jasper, the new boy. And she doesn't tell anyone about her dad. Because her dad died when she was six. And Biz knows how to float, right there on the surface--normal okay regular fine.
But after what happens on the beach--first in the ocean, and then in the sand--the tethers that hold Biz steady come undone. Dad disappears, and with him, all comfort. It might be easier, better, sweeter to float all the way away? Or maybe stay a little longer, find her father, bring him back to her. Or maybe--maybe maybe maybe--there's a third way Biz just can't see yet.
No matter which way Biz chooses, she has to remember to just keep breathin.
MSL: Feel my blood runnin', swear the sky's fallin'/I keep on breathin'
By Helena Fox
10. After Jay's cousin, one of the PATRON SAINTS OF NOTHING, is murdered, Jay travels to the Philippines in hopes of closure so he'll have no tears left to cry
Jay Reguero plans to spend the last semester of his senior year playing video games before heading to the University of Michigan in the fall. But when he discovers that his Filipino cousin Jun was murdered as part of President Duterte's war on drugs, and no one in the family wants to talk about what happened, Jay travels to the Philippines to find out the real story.
Hoping to uncover more about Jun and the events that led to his death, Jay is forced to reckon with the many sides of his cousin before he can face the whole horrible truth -- and the part he played in it.
After Jun's death, Jay travels to the Phillipines to start picking up the pieces of what Jun left behind, praying it'll give him enough closure so he can return home with no tears left to cry.
MSL: We're on another mentality/Ain't got no tears left to cry/So I'm pickin' it up
By Randy Ribay
11.Their relationship is borderline, but they are still each others's EMERGENCY CONTACT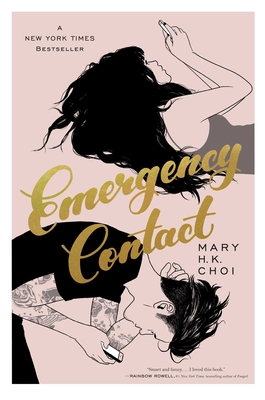 For Penny Lee high school was a total nonevent. Her friends were okay, her grades were fine, and while she somehow managed to land a boyfriend, he doesn't actually know anything about her. When Penny heads to college in Austin, Texas, to learn how to become a writer, it's seventy-nine miles and a zillion light years away from everything she can't wait to leave behind.
Sam's stuck. Literally, figuratively, emotionally, financially. He works at a café and sleeps there too, on a mattress on the floor of an empty storage room upstairs. He knows that this is the god-awful chapter of his life that will serve as inspiration for when he's a famous movie director but right this second the seventeen bucks in his checking account and his dying laptop are really testing him.
When Sam and Penny cross paths it's less meet-cute and more a collision of unbearable awkwardness. Still, they swap numbers and stay in touch—via text—and soon become digitally inseparable, sharing their deepest anxieties and secret dreams without the humiliating weirdness of having to see each other.
It's a borderline relationship when you don't even meet each other, but Sam and Penny will make it work. This book is so cute, and we recommend.
MSL: Won't you give me a bit of your time, oh woah
By Mary H.K. Choi
12. As a WICKED FOX, Miyoung would be better off without him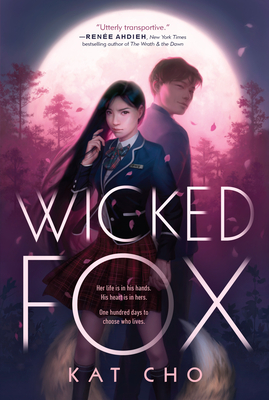 A fresh and addictive fantasy-romance set in modern-day Seoul.
Eighteen-year-old Gu Miyoung has a secret--she's a gumiho, a nine-tailed fox who must devour the energy of men in order to survive. Because so few believe in the old tales anymore, and with so many evil men no one will miss, the modern city of Seoul is the perfect place to hide and hunt.
But after feeding one full moon, Miyoung crosses paths with Jihoon, a human boy, being attacked by a goblin deep in the forest. Against her better judgment, she violates the rules of survival to rescue the boy, losing her fox bead--her gumiho soul--in the process.
Jihoon knows Miyoung is more than just a beautiful girl--he saw her nine tails the night she saved his life. His grandmother used to tell him stories of the gumiho, of their power and the danger they pose to humans. He's drawn to her anyway.
With murderous forces lurking in the background, Miyoung and Jihoon develop a tenuous friendship that blossoms into something more. But when a young shaman tries to reunite Miyoung with her bead, the consequences are disastrous . . . forcing Miyoung to choose between her immortal life and Jihoon's.
Miyoung would definitely be better off without Jihoon, but sometimes life doesn't work like that. This book is just so full of tension, it would be a crime not to read it.
MSL: I'm better off without him/I'm better off being a wild one
By Kat Cho
13. Will Ruby and Oscar's NIGHT MUSIC survive in the morning, or is this a goodnight n go situation?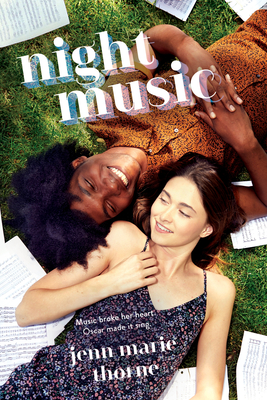 Ruby has always been Ruby Chertok future classical pianist, heir to the Chertok family legacy, daughter of renowned composer Martin Chertok. But after bungling her audition for the prestigious Amberley School of Music--where her father is on faculty--Ruby is suddenly just . . . Ruby. And who is that again? All she knows is that she wants out of the orbit of her relentlessly impressive family, and away from the world of classical music for good. Yes? Yes.
Oscar is a wunderkind, a musical genius. Just ask any of the 1.8 million people who've watched him conduct his own compositions on YouTube--or hey, just ask Oscar. But while he might be the type who'd name himself when asked about his favorite composer and somehow make you love him more for it, Oscar is not the type to jeopardize his chance to study under the great Martin Chertok--not for a crush. He's all too aware of how the ultra-privileged, ultra-white world of classical music might interpret a black guy like him falling for his benefactor's white daughter. Right? Right.
But as the New York City summer heats up, so does the spark between Ruby and Oscar. Soon their connection crackles with the same alive, uncontainable energy as the city itself. But can two people still figuring themselves out figure out how to be together? Or will the world make the choice for them?
If Ruby and Oscar can't find a way to be together, they might have to say "goodnight" n go.
MSL: Why must you make me laugh so much?/It's bad enough we get along so well/Just say goodnight and go
By Jenn Marie Thorne
14. Just like with pete davidson, THERE'S SOMETHING ABOUT SWEETIE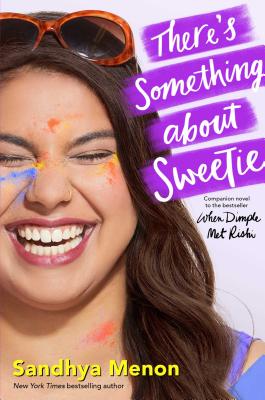 Ashish Patel didn't know love could be so…sucky. After he's dumped by his ex-girlfriend, his mojo goes AWOL. Even worse, his parents are annoyingly, smugly confident they could find him a better match. So, in a moment of weakness, Ash challenges them to set him up.
The Patels insist that Ashish date an Indian-American girl—under contract. Per subclause 1(a), he'll be taking his date on "fun" excursions like visiting the Hindu temple and his eccentric Gita Auntie. Kill him now. How is this ever going to work?
Sweetie Nair is many things: a formidable track athlete who can outrun most people in California, a loyal friend, a shower-singing champion. Oh, and she's also fat. To Sweetie's traditional parents, this last detail is the kiss of death.
Sweetie loves her parents, but she's so tired of being told she's lacking because she's fat. She decides it's time to kick off the Sassy Sweetie Project, where she'll show the world (and herself) what she's really made of.
Ashish and Sweetie both have something to prove. But with each date they realize there's an unexpected magic growing between them. Can they find their true selves without losing each other?
This cute, sweet romance definitely embodies the romatic feelings in pete davidson. If you like comtemporary books, you should definitely pick this one up the next time you see it.
MSL: Universe must have my back, fell from the sky into my lap/And I know you know that you're my soulmate and all that
By Sandhya Menon
15. get well soon, because no matter what you do I AM NOT YOUR PERFECT MEXICAN DAUGHTER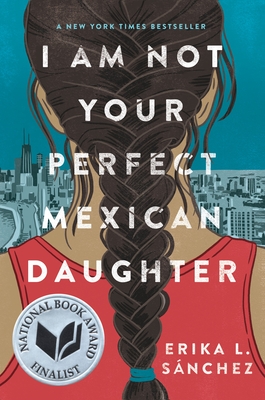 Perfect Mexican daughters do not go away to college. And they do not move out of their parents' house after high school graduation. Perfect Mexican daughters never abandon their family.
But Julia is not your perfect Mexican daughter. That was Olga's role.
Then a tragic accident on the busiest street in Chicago leaves Olga dead and Julia left behind to reassemble the shattered pieces of her family. And no one seems to acknowledge that Julia is broken, too. Instead, her mother seems to channel her grief into pointing out every possible way Julia has failed.
But it's not long before Julia discovers that Olga might not have been as perfect as everyone thought. With the help of her best friend Lorena, and her first kiss, first love, first everything boyfriend Connor, Julia is determined to find out. Was Olga really what she seemed? Or was there more to her sister's story? And either way, how can Julia even attempt to live up to a seemingly impossible ideal?
Julia's life isn't perfect, rather it's far from it. Despite this, she prevails in this heartwarming yet suspensful book.
MSL: Just know that there's up and downs and there's drops
By Erika L. Sánchez