Submitted by
booksinckids
on Mon, 10/29/2018 - 9:39am
Dear Readers,
One of the first questions people ask me when they learn I'm a Children's Book Buyer is do you really read all of the books you buy? Sadly the answer is NO. It's impossible but I'm excited to introduce you to a group of people who give me a first look at everything being published each season, our publisher sales reps! I rely on them to help me discover debut gems, identify new trends and tell me what I should put on top of my never ending need to read pile. Each month a publisher rep will share one of their personal favorites with us. Happy Reading!
Shannon
Books Inc. Co-Owner &
Senior Children's Buyer
Readers, meet Kevin!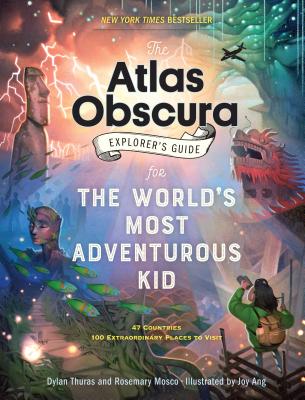 When I was a kid, one of the ways my mom would encourage me to read was by telling me that, through a book, I could travel anywhere in the world at any time, without ever leaving home. Books then became portals to other worlds and places. Few books capture this feeling for me as much as The Atlas Obscura Explorer's Guide for The World's Most Adventurous Kid (Workman Publishing), written by Atlas Obscura co-founder Dylan Thuras (and co-author of the bestselling book Atlas Obscura) and science writer and graphic novelist Rosemary Mosco, and illustrated by Joy Ang (who just so happens to also be a character designer for Adventure Time). Readers are taken on a remarkable cross-continent journey around the world to 47 countries and 100 of the strangest and most amazing places ever visited by humans. Explore the Giant Crystals of Naica, found in a recently-discovered cave complex in Mexico, which are seven time taller than a person and are heavier than an elephant, then go to the next page to learn of the world's largest cave complex, the Han Son Doong cave in Vietnam, which is so big, you could fly a 747 jet airliner through it! From a spacecraft cemetery off the coast of New Zealand, to a lake of skeletons in India (where a freak hailstorm killed 200 people 1200 years ago), to Blood Falls in Antarctica (where a melting glacier is colored by iron to turn the water red), to an island of snakes in Brazil, readers are treated to one extraordinary adventure after another. For every kid who dreams of travel and adventure, and for every adult who feels the same, many wonders await in this fantastic book. (Available now.)
About Kevin:I have worked in the book business in Northern California for over 30 years, in many guises, including over a decade as a bookseller (at Books Inc., in fact), as a distributor book buyer, as a media guide for authors, and as a publisher sales rep, both for a big house (Macmillan) and now as an independent sales rep with Book Travelers West, representing Workman Publishing, among others. I enjoy reading (of course), music of all sorts, culinary wonders, travel, great beaches, and spending time with my lovely wife. I am also an enthusiastic practitioner of both Yoga and Budo (Japanese martial arts).