Submitted by
booksinckids
on Fri, 07/19/2019 - 10:25am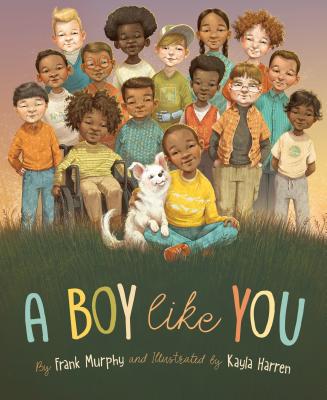 by FRANK MURPHY
There's more to being a boy than sports, feats of daring, and keeping a stiff upper lip. A Boy Like You encourages every boy to embrace all the things that make him unique, to be brave and ask for help, to tell his own story and listen to the stories of those around him. In an age when boys are expected to fit into a particular mold, this book celebrates all the wonderful ways to be a boy.
Publisher's Weekly - A Boy Like You
Reviewed on 1 July 2019
Excerpt: The story is directed squarely at boys, but Harren's illustrations show representations of all kinds of kids and families. Being a boy can mean many things, Murphy suggests, but being "a smart boy, a brave boy, a kind boy" are the first important steps toward manhood.
Contributors
A graduate of Rutgers University, Frank is currently a second grade teacher in the Council Rock School District in Newtown, Pennsylvania. Frank lives in Holland, Pennsylvania, and has two sons, Griffin and Chase.
Kayla Harren is the author and illustrator of Mary Had a Little Lizard, and the illustrator of a number of other projects, including Hannah's Tall Order. She lives in St. Paul, Minnesota.
Order your copy of A Boy Like You by Frank Murphy & Kayla Herren now!