Submitted by
booksinckids
on Fri, 02/22/2019 - 3:30pm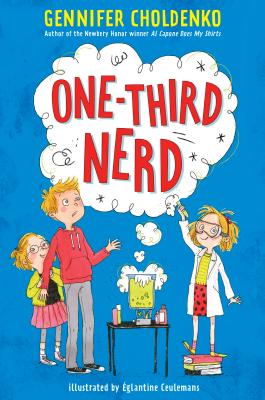 My favorite book published in 2019 so far is One Third Nerd by Gennifer Choldenko.
Family life can be haywire or hilarious or heartwarming or all three at the same time, especially for neurodiverse families today. In One Third Nerd, Choldenko once again opens up readers lives with her nearly masterfully child driven story. One Third Nerd is also the best early chapter to middle reader crossover book I have ever read.

The book's refreshingly awkward yet brave first person narrator, Liam keeps readers laughing with his instantly relatable real life adventures. Liam has a loving sister, Izzy, who has down syndrome and a energetic and often frenzied sister Dakota who is 100% nerd. The family struggles to help their dog Cupcake back to health and pay for Cupcake's vet expenses. With that as the premise, the book reads like a story version of a highlight show of Americas Funniest Home Videos or an equivalent YouTube mix with many clever breaks of keen insight full of important conversation starters for kids of all ages. To me The best way to relate Choldenko's newest book to other books is that One Third Nerd is an updated mashup of the best of Beverley Cleary's books with the most heartfelt of Judy Blume's writing, with fittingly expressive cartoons.
About Drew: I earned a Masters in Information Science in 2016 focusing on Children and Young adult books. I have focused on my calling as a children's specialist bookseller for a little over 8 years now. I have been at Books Inc for the past two years in that role. To keep up with highlights of my professional work check out my blog at www.worthyreader.blogspot.com