Submitted by
booksinckids
on Fri, 06/07/2019 - 9:07am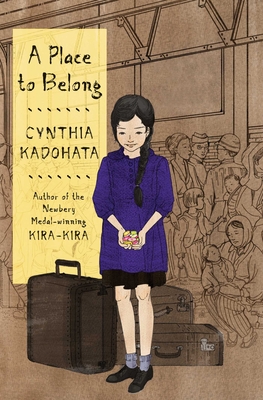 A Place to Belong by Cynthia Kadohata succeeds on so many levels, it's astonishing! I love historical fiction, because I learn so much while I absorb myself in the story. A Place to Belong covers the time after WWII is over, and Japanese-Americans are leaving the prison camps. Hanako, a 12-year-old girl, crosses the ocean with her family to Japan to live with her father's family in a tenant farm just outside Hiroshima. The horrific sight of the destroyed city is vividly depicted (disturbingly enough that the ages 10 and up is well-warranted) and Hanako's struggle to stay present in gratitude rings true.
But it is this book's emotional core that resonated so strongly with me. Her grandparents provide Hanako with a bounty of unconditional love and care for her future that I just wanted to wrap myself in. Selfless, proud (and quite touchingly funny!), her grandparents make this novel truly one to remember for years. To see Hanako grow in her own selfless love for her brother is beautiful and sweet, and a testament to her family's strength.
---
About Robin: Robin Stern has always worked around books, from her teenage job at Waldenbooks, to academic and public libraries (she is trained as a children's librarian), to Books Inc! She loves connecting people with books. She runs the Wit and Whimsy Book Club for children 8-12 at the Campbell Books Inc. and has an all-ages storytime on Sundays at 11:00 AM.

$17.99
ISBN: 9781481446648
Availability: In Stock Now - Click Title to See Store Inventory. Please allow up to 48-hours for Curbside Pickup orders to be processed.
Published: Atheneum/Caitlyn Dlouhy Books - May 14th, 2019
---