Submitted by
booksinckids
on Fri, 12/28/2018 - 3:09pm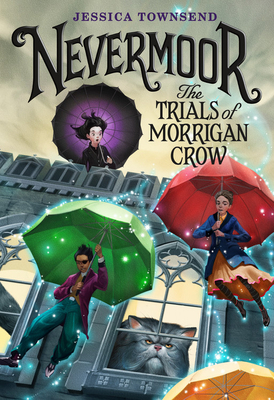 After a whirlwind season of putting on Books Inc. children's bookfairs, I like nothing better than to unwind at home with an enormous cup of hot chocolate and a good book. This winter break, I'm planning to finish Wundersmith by Jessica Townsend, the much-awaited follow-up to middle grade fantasy debut Nevermoor. In the first book, our hero Morrigan Crow is whisked away from her oppressive family and placed under the patronage of the eccentric Jupiter North. After surviving a series of trails to join the exclusive Wundrous Society, she discovers a unique talent that will make her a central figure in the struggle to save Nevermoor: the power to harness the magical and mysterious energy known as Wunder.
Now, in Wundersmith, Morrigan and her eight peers in the society must begin their training, all while managing the struggles of friendship, belonging, and identity that every 12 year old faces. But when tragedy and terror strikes Nevermoor in the form of mysterious disappearances, Morrigan will have to save the Wondrous Society for good, or take on the blame herself. Townsend's sophomore novel is written with an ease and confidence that eludes even more experienced novelists, and I will happily join the chorus of readers comparing her favorably to J.K Rowling and her own magically-gifted orphan child. Perfect for children ages 11-15, and clocking in at over 500 pages, Wundersmith is children's fantasy at its best and most accessible.
About Paul: Originally from Long Beach, Paul has found a home in the beautiful city of Oakland. A graduate of Cal State East Bay (B.A, Creative Writing) Paul has been thrilled to advance his love for reding with Books Inc. as a coordinator for their Book Fair programs. His favorite parts of the job are meeting nother writers and connecting kids to meaningful stories that stimulate ther brains. When he's not zipping around the Bay Area for school events, he likes to write poetry, nerd out on political news, and go for hikes at the East Bay's beautiful parsk and walking trails.