Submitted by
booksinckids
on Mon, 02/11/2019 - 9:27am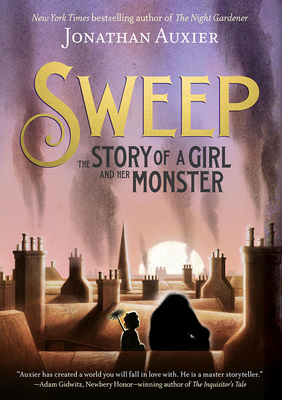 Books Inc in Laurel Village runs two monthly book groups for readers 9 to 12 years old. The Adventurous Readers' Club reads—surprise!—action and adventure books. Wild Girls Mother-Daughter Book Club is for, you guessed it, girls and their moms.
February 2019 marks a very special occurrence: both ARC and Wild Girls have chosen SWEEP: The Story of a Girl and Her Monster by Jonathan Auxier as our discussion book. It is a book packed with both emotion and tension, fact and fiction, the historical and the fantastical. It is both familiar and refreshing, classic and modern. In a word, it is wonderful.
And what is the book about, you ask?
It's been five years since the Sweep disappeared and left Nan Sparrow orphaned and alone in the stark, gritty streets of Victorian London. She is left with no other choice but to work for a ruthless man named Wilkie Crudd, spending her days sweeping out chimneys. The job is dangerous and thankless, but with her wits and will, Nan has managed to beat the deadly odds time and time again.
When Nan gets stuck in a chimney fire, she fears the end has come. Instead, she wakes to find herself unharmed in the abandoned attic of Miss Mayhew's Seminary for Young Ladies. And she is not alone. Huddled in the corner is a mysterious creature—a golem—made from soot and ash.
Sweep is the story of a girl and her monster. Together, these two outcasts carve out a new life in the House of 100 Chimneys—saving each other in the process. Lyrically told by one of today's most powerful storytellers (Peter Nimble or The Night Gardener anyone?), Sweep is a heartrending adventure about the everlasting gifts of friendship and wonder.
Won't you join us one of these Sundays in February? We really want to talk about this book with you!
Sincerely,
Summer & JC at Books Inc. Laurel Village