Submitted by
YAatBooksInc
on Mon, 01/28/2019 - 10:20am
---
Teen Advisory Board Member Sophia Reviews The Raven's Tale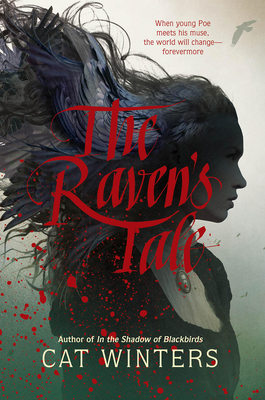 The Raven's Tale by Cat Winters
The Raven's Tale, by Cat Winters, takes a modernized, ghoulish twist on the life of revered poet and short-story author Edgar Allan Poe, who is known for his macabre and blood-chilling writing.
After his mother dies when he is three years old, Edgar is taken in by John Allan and his wife, where he lives lamentably in a society that shuns the arts. Still, Edgar is consumed with his passion for writing, and longs for the day he will be sent to sent to the University of Virginia to escape his current life. Yet, leaving his town would mean leaving Elmira Royster, the woman he desperately wishes to marry. After a fight with his adoptive father, Edgar is confronted by his muse: a gruesome wraith he calls Lenore who threatens to disrupt the entirety of his life by revealing the darkness inside him.
This thrilling, new novel offers an entirely different perspective of Edgar Allan Poe by personifying his muse, which is further enhanced by Winters' dazzling writing and penchant for the dark and mysterious. By taking historically accurate elements of Poe's life and combining them with imagination, a novel perfect for lovers of horror, mystery, or Edgar Allan Poe emerges.

The Raven's Tale hits shelves April 16, 2019. Preorder your copy now!