Submitted by
YAatBooksInc
on Sun, 10/06/2019 - 11:34am
By Teen Advisory Board Member
Ziggy, Stardust and Me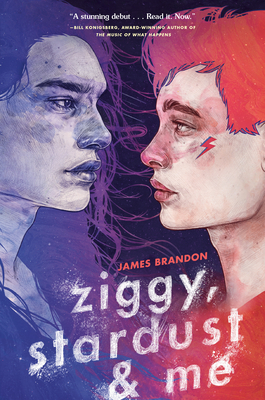 by James Brandon
For Jonathan, he wants nothing more than to not be gay. Bullied at school, distant from his father, and forced to go to therapy sessions to make himself straight, he finds comfort in two things: his best friend, Starla, and his idol, Ziggy Stardust. With them, he's able to just be himself. Soon, the arrival of a new boy at school, Web, forces him to begin to come to terms with his identity. Jonathan is left torn between his feelings and what society tells him is right.
This book is an interesting coming of age story, steeped in pop culture and social justice issues. The plot line of Jonathan grappling with intense self-loathing was very emotional, and despite his faults, it was easy to like him and relate to him. Due to the first person point of view in the book, and the care the author took in developing a distinct voice for him, Jonathan is a realistic character. Additionally, one issue this book addresses really well is internalized homophobia. This is all explored through Jonathan, but also with other closeted characters.

Ziggy, Stardust and Me is a great choice for readers interested in the 1970s, David Bowie, social justice. The bittersweet romance and relatable characters will stick with you even after finishing the book.
---