Submitted by
YAatBooksInc
on Sat, 10/19/2019 - 3:48pm
---
Review By: Teen Advisory Board Member Tiffany Nguyen
Thirteen Doorways, Wolves Behind Them All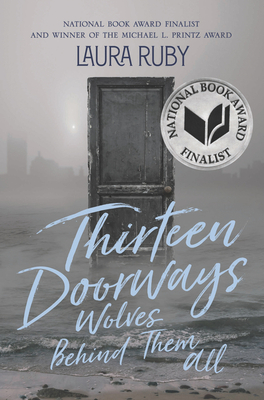 by Laura Ruby
"From the author of Printz Medal winner Bone Gap comes the unforgettable story of two young women—one living, one dead—dealing with loss, desire, and the fragility of the American dream during WWII.
When Frankie's mother died and her father left her and her siblings at an orphanage in Chicago, it was supposed to be only temporary—just long enough for him to get back on his feet and be able to provide for them once again. That's why Frankie's not prepared for the day that he arrives for his weekend visit with a new woman on his arm and out-of-state train tickets in his pocket.
Now Frankie and her sister, Toni, are abandoned alongside so many other orphans—two young, unwanted women doing everything they can to survive.
And as the embers of the Great Depression are kindled into the fires of World War II, and the shadows of injustice, poverty, and death walk the streets in broad daylight, it will be up to Frankie to find something worth holding on to in the ruins of this shattered America—every minute of every day spent wondering if the life she's able to carve out will be enough.
I will admit I do not know the answer. But I will be watching, waiting to find out.
That's what ghosts do."

Thirteen Doorways, Wolves Behind Them All is a historical fiction novel set from 1941 to 1946, and not only was Ruby effective in making her novel feel like the time period it was set in through the mindset and actions of her characters, but she is also able to confront the reality of inequality and division in America-both then and now.
This novel does an amazing job portraying the overarching theme of how so many things from societal standards to war can hold people back from the American Dream. Despite being historical fiction, these struggles are still prevalent in today's world, and this novel discusses the hardships women face while showing how some have pushed back and refused to accept their reality. Through this, Thirteen Doorways, Wolves Behind Them All is inspiring in that it doesn't just talk about the ways society represses many of us, but it also reveals the good worth fighting for.
Frankie is courageous and resolute, allowing her to survive against the societal and emotional challenges she faces. At the same time, she, along with the other kids at the orphanage, feel like real people-you are able to feel their authentic terror as families and friends go off to war, and you feel their grief and frustration when the people meant to love them treat them like they're an unwanted inconvenience.
Like Frankie, the other girls at the orphanage, especially Loretta and Stella, are far from perfect, and yet it is the stories behind their flaws and all they've overcome that adds a whole other level of depth to their characters.
In this world, there are also ghosts who wander the Earth, watching the living while obsessing over their own lives and deaths and wondering if they can affect anything in the living world. Pearl, our narrator and a ghost watching over Frankie, reveals her own story about how her family and relationships lead to her death, and it is just as intriguing and heartbreaking as Frankie's.
All in all, Thirteen Doorways, Wolves Behind Them All is a moving and meaningful story, perfect for people who struggle with inequality or want to hear more about its existence throughout history.