Books Inc. Berkeley presents a special storytime launch party celebrating poet and author Emily Jiang's gorgeous collaboration with illustrator April Chu, Summoning the Phoenix: Poems and Prose about Chinese Musical Instruments. Packed with vivid illustrations depicting each fascinating instrument discussed, this lively collection of poetry is a fun and educational read which brings readers on a delightful musical journey! So join us for an afternoon of Chinese food & drinks, interactive musical activities, singing, free goodies, and beautiful art!
Let Emily and April know you'll be there! https://www.facebook.com/events/604992199582627/?ref_dashboard_filter=up...
Event date:
Sunday, April 27, 2014 - 2:00pm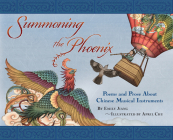 $18.95
ISBN: 9781885008503
Availability: In Stock Now - Click Title to See Store Inventory. Books must show IN STOCK at your desired location for same day pick-up.
Published: Shen's Books - March 17th, 2014
---