Modernist Cuisine: El Arte y La Ciencia de La Cocina (Hardcover)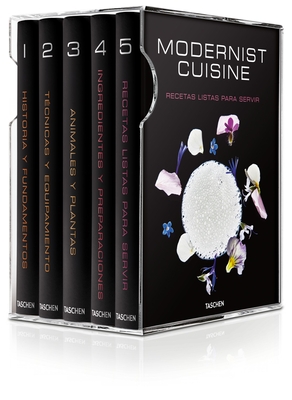 $625.00
Usually Ships in 1-5 Days
Description
---
Cutting-edge techniques used by the world's best chefs

"The most important book in the culinary arts since Escoffier." — Tim Zagat

A revolution is underway in the art of cooking. Just as French Impressionists upended centuries of tradition, Modernist cuisine has in recent years blown through the boundaries of the culinary arts. Borrowing techniques from the laboratory, pioneering chefs at world-renowned restaurants such as elBulli, The Fat Duck, Alinea, and wd~50 have incorporated a deeper understanding of science and advances in cooking technology into their culinary art. The authors and their 20-person team at The Cooking Lab—scientists, inventors, and accomplished cooks in their own right—have achieved astounding new flavors and textures by using tools such as water baths, homogenizers, and centrifuges, and ingredients such as hydrocolloids, emulsifiers, and enzymes. Modernist Cuisine is a work destined to reinvent cooking.

How do you make an omelet light and tender on the outside, but rich and creamy inside? Or French fries with a light and fluffy interior and a delicate, crisp crust that doesn't go soggy? Imagine being able to encase a mussel in a gelled sphere of its own sweet and briny juice. Or to create a silky-smooth pistachio cream made from nothing more than the nuts themselves. Modernist Cuisine offers step-by-step, illustrated instructions, as well as clear explanations of how these techniques work. Through thousands of original photographs and diagrams, the lavishly illustrated books make the science and technology of the culinary arts clear and engaging. Stunning new photographic techniques take the reader inside the food to see cooking in action all the way from microscopic meat fibers to an entire Weber grill in cross-section. You will view cooking—and eating—in a whole new light.

A sampling of what you'll discover:

Why plunging food in ice water doesn't stop the cooking process
When boiling cooks faster than steaming
Why raising the grill doesn't lower the heat
Why baking is mostly a drying process
Why deep-fried food tastes best and browns better when the oil is older
How modern cooking techniques can achieve ideal results without the perfect timing or good luck that traditional methods demand

Many invaluable features include:
Insights into the surprising science behind traditional food preparation methods such as grilling, smoking, and stir-frying
The most comprehensive guide yet published on cooking sous vide, including the best options for water baths, packaging materials, and sealing equipment; cooking strategies; and troubleshooting tips
More than 250 pages on meat and seafood and 144 pages on fruits, vegetables, and grains, including dozens of parametric recipes and step-by-step techniques
Extensive chapters explaining how to achieve amazing results by using modern thickeners, gels, emulsions, and foams, including example recipes and many formulas
Some 300 pages of new recipes for plated dishes suitable for service at top-tier restaurants, plus recipes adapted from master chefs including Grant Achatz, Ferran Adrià, Heston Blumenthal, David Chang, Wylie Dufresne, David Kinch, and many others
Volume 1: History and Fundamentals
Volume 2: Techniques and Equipment
Volume 3: Animals and Plants
Volume 4: Ingredients and Preparations
Volume 5: Plated-Dish Recipes
Volume 6: Kitchen Manual with example recipes and extensive reference tables, printed on washable paper
About the Author
---
NATHAN MYHRVOLD est le directeur general et l un des fondateurs d Intellectual Ventures, entreprise specialisee dans la conception et le developpement d inventions. Non seulement il stimule le potentiel creative des autres, mais il est lui-meme inventeur, avec plus de 250 brevets deposes ou en cours d homologation, dont plusieurs dans le domaine de la technologie culinaire. Stagiaire pendant deux ans dans le grand restaurant francais de Seattle, le Rover s, Nathan Myhrvold a parfait sa formation culinaire aupres d Anne Willan, chef renomme, a la tete de l Ecole de cuisine La Varenne. Il a egalement ete directeur gastronomique pour Zagat Survey. Nathan Myhrvold a fait des etudes de mathematiques, geophysique et physique spatiale a UCLA, et il a recu un doctorat en economie mathematique et en physique theorique a l Universite de Princeton.

CHRIS YOUNG a ouvert la voie de la cuisine experimentale au restaurant Th e Fat Duck ou il a travaille cinq ans aupres de Heston Blumenthal, chef de renommee mondiale, pour l aider a mettre au point ses plats les plus novateurs. Apres des etudes de mathematiques et de biochimie a l Universite de Washington, il abandonne un doctorat pour se former dans un des plus grands restaurants de Seattle. A Th e Fat Duck, il a elargi la cuisine experimentale a non plus un mais six chefs a plein temps. Il a egalement coordonne le travail de plusieurs consultants scientifi ques. Outre l elaboration de nouveaux plats pour la carte de Th e Fat Duck, Chris Young a supervise la mise au point de recettes pour la serie (saisons 1 et 2) de la BBC, Heston Blumenthal: In Search of Perfection, saluee par la critique.

MAXIME BILET, diplome du Skidmore College en ecriture creative, litterature et arts visuels, a poursuivi ses etudes a l Institute of Culinary Education a New York, dont il est sorti avec les felicitations. Apres un stage au Jack s Luxury Oyster Bar, il a rapidement ete engage par Jack Lamb comme chef. Ayant demenage a Londres, il a suivi une formation a The Fat Duck, au sein de l equipe de Heston Blumenthal chargee du developpement. Ayant integre le Cooking Lab comme responsable de la recherche et du developpement, Maxime Bilet a mene l equipe culinaire quotidiennement, afi n de creer et documenter les nouvelles techniques et recettes ainsi que de concevoir l esthetique originale de la photographie.