PLEASE NOTE
Books must show: IN STOCK at your desired location for same day pick-up in stores. We recommend calling stores that show low stock numbers.
Getting to 50/50: How Working Parents Can Have It All (Paperback)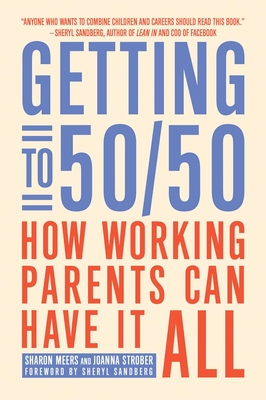 $18.95
Usually Ships in 1-5 Days
Description
---
Sharon Meers and Joanna Strober are professionals, wives, and mothers. They understand the challenges and rewards of two-career households. They also know that families thrive not in spite of working mothers but because of them. You can have a great career, a great marriage, and be a great mother. The key is tapping into your best resource and most powerful ally--the man you married.
After interviewing hundreds of parents and employers, surveying more than a thousand working mothers, and combing through the latest government and social science research, the authors have discovered that kids, husbands, and wives all reap huge benefits when couples commit to share equally as breadwinners and caregivers. Mothers work without guilt, fathers bond with their kids, and children blossom with the attention of two involved parents.
From "baby boot camp" for new dads to exactly what to say when negotiating a leave with the boss, this savvy book offers fresh ideas to today's families offering encouragement, hope, and confidence to any woman who has ever questioned her choices regarding work and family.
Winner of the Independent Publisher Award Gold Medal in Parenting
About the Author
---




Sheryl Kara Sandberg est une femme d'affaires americaine, nee le 28 aout 1969 a Washington, D.C.. Elle est l'actuelle directrice des operations (COO) de Facebook. Elle etait auparavant vice-presidente des Ventes et operations internationales en ligne (Global Online Sales and Operations) chez Google. Elle s'est egalement impliquee dans le lancement de la branche philanthropique de Google, Google.org et dans AdWords. Avant de rejoindre Google, Sheryl Sandberg etait chef de service au sein du departement du Tresor des Etats-Unis ou elle a fait partie du programme d'allegement de la dette des pays en voie de developpement. En 2011, elle est classee comme la cinquieme femme la plus puissante au monde par le magazine Forbes. En 2012, elle est a la dixieme place de la liste des femmes les plus puissantes du monde.
Praise For…
---
"Don't believe the myths about women and work- this advice will benefit you now and in the future."
-Sheryl Sandberg, COO of Facebook