PLEASE NOTE
Books must show: IN STOCK at your desired location for same day pick-up in stores. We recommend calling stores that show low stock numbers.
Bone: The Complete Cartoon Epic in One Volume (Paperback)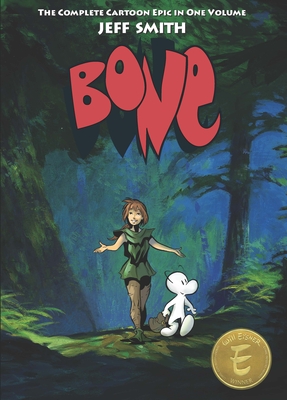 $39.95
In Stock - See Store Locations Below
Description
---
After being run out of Boneville, the three Bone cousins, Fone Bone, Phoney Bone and Smiley Bone are separated and lost in a vast uncharted desert. One by one they find their way into a deep forested valley filled with wonderful and terrifying creatures. It will be the longest - but funniest - year of their lives.


Winner of 11 Harvey Awards and 10 Eisner Awards including Best Cartoonist and Best Humor Publication, as well as being named Best Comic Book by the National Cartoonists Society. BONE has also won multiple international awards in Italy, France, Germany, Spain, Finland and Norway.
About the Author
---
Praise For…
---
Endorsements
Time Magazine: One of the Ten Greatest Grapic Novels of all Time
Publisher's Weekly: Best Book LIst
The Comics Journal: Book of the Year
American Library Association: Top 25 Graphic Novels for Young Adults
Better Homes and Gardens: 'Must Read' list

Quotes

Time Magazine
"BONE combines the humor and look of early Disney movies with the scope of the Lord of the Rings cycle. While children will read BONE for its breathless adventure and sight gags, older kids and adults will appreciate the themes of blind fanaticism and corrupting power."

Entertainment Weekly
"BONE is storytelling at its best, full of endearing, flawed characters whose adventures run the gamut from hilarious whimsy to thrilling drama. Along the way, Smith's musings… take on a greater relevance than you'd ever expect. Grade: A."

Publisher's Weekly
"Charming, character-driven fantasy with an elegant design and masterful story-telling in the tradition of Walt Kelly, Charles Schulz and Carl Barks." (starred review)

ALA Booklist
"Like Pogo, BONE has a whimsy best appreciated by adults, yet kids can enjoy it, too; and like Barks' Donald Duck stories, BONE moves from brash humor to gripping adventure in a single panel."

Neil Gaiman (author of The Graveyard Book and Sandman)
"Jeff Smith can pace a joke better than almost anyone in comics; his dialogue is delightful—so are all his people, not to mention his animals, his villains, and even his bugs."

Matt Groening (creator of The Simpsons)
"I love BONE! BONE is great!"