PLEASE NOTE
Books must show: IN STOCK at your desired location for same day pick-up in stores. We recommend calling stores that show low stock numbers.
Anno Dracula (Mass Market Paperbound)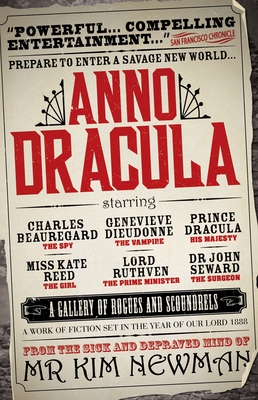 $7.99
Usually Ships in 1-5 Days
Description
---
It is 1888 and Queen Victoria has remarried, taking as her new consort Vlad Tepes, the Wallachian Prince infamously known as Count Dracula. Peppered with familiar characters from Victorian history and fiction, the novel follows vampire Genevieve Dieudonne and Charles Beauregard of the Diogenes Club as they strive to solve the mystery of the Ripper murders.
"Anno Dracula" is a rich and panoramic tale, combining horror, politics, mystery and romance to create a unique and compelling alternate history. Acclaimed novelist Kim Newman explores the darkest depths of a reinvented Victorian London.
About the Author
---
Kim Newman est un dandy anglais et un ancien artiste de cabaret. Auteur prolifique, il est aussi l'un des plus grands specialistes du cinema fantastique. Avec Anno Dracula, qui a remporte le International Horror Guild Award, il revisite le mythe du vampire avec un brio.
Praise For…
---
Stephen King assumes we hate vampires; Anne Rice makes it safe to love them, because they hate themselves. Kim Newman suspects that most of us live with them… Anno Dracula is the definitive account of that post-modern species, the self-obsessed undead." — The New York Times

"Compulsory reading...Glorious" – Neil Gaiman

"A brilliantly witty parallel-world saga… builds sure-footedly to bravura climax which entirely redefines 'Victorian values'" — Daily Telegraph

"Anno Dracula will leave you breathless... one of the most creative novels of the year." — Seattle Times

"Politics, horror and romance are woven together in this brilliantly imagined and realised novel. Newman's prose is a delight, his attention to detail spellbinding" — Time Out

" A tour de force which succeeds brilliantly" — The Times

"A marvellous marriage of political satire, melodramatic intrigue, gothic horror and alternative history. Not to be missed. " — The Independent

'A ripping yarn, an adventure romp of the best blood, and a satisfying… read' – Washington Post Book World

'Powerful... compelling entertainment... a fiendishly clever banquet of dark treats' – San Francisco Chronicle

"The most comprehensive, brilliant, dazzlingly audacious vampire novel to date. 'Ultimate' seems an apt description... Anno Dracula is at once playful, horrific, intelligent and revelatory... Newman's prose will remain gloriously unique." — Locus

"Anno Dracula couldn't be more fun if Bram Stoker had scripted it for Hammer. It's a beautifully constructed Gothic epic that knocks almost every other vampire novel out for the count."
— Christopher Fowler

"Bloody excellent. Kim Newman has exsanguinated the best of fact and fiction and created a vivid vampirous Victorian world uniquely his own.  This clever, delicious extravaganza – Hammer Horror meets True (Blue) Blood – is just the tonic for the year of a Royal Wedding." — Stephen Volk

"Anno Dracula is the smart, hip Year Zero of the vampire genre's ongoing revolution." — Paul McAuley