PLEASE NOTE
Books must show: IN STOCK at your desired location for same day pick-up in stores. We recommend calling stores that show low stock numbers.
Nazis in the Metro (Paperback)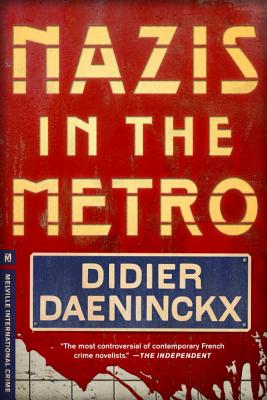 This Book Is Not Sold Online - In Store Special Order Only
Description
---
A riveting novel of political intrigue, set on the Left Bank of Paris
From France's leading political crime writer comes a novel that delves into the country's radical political movements on both the left and the right, in the wake of a brutal attack.
When Andre Sloga, an apparently washed-up novelist with a history of baiting the system, is assaulted and left for dead in the basement of his apartment building, the freelance private eye Gabriel Lecouvreur takes on the case. The police consider it a robbery gone wrong, but Lecouvreur, a great reader who admires Sloga's books, thinks the matter runs deeper than that.
And as he looks into it further, he discovers that Sloga had not in fact quit writing after he was dropped by his prestigious publishing house for his increasingly provocative novels. Instead, Sloga was at work on an explosive book that had led him into extremist political circles . . . until someone put a stop to it.
Steeped in the real Paris, where graffiti, squats, and skinheads dominate the streets, Didier Daeninckx's" Nazis in the Metro "is a vivid portrait of a side of the city few foreigners see, wrapped in an utterly gripping mystery.
About the Author
---
Ne en1949, Didier Daeninckx a d'abord travaille dans l'imprimerie avant de publier son premier livre, Meurtre pour memoire, en1982. Il est considere comme un des principaux auteurs a avoir renouvele le concept exigeant d'une litterature populaire mordante, en prise sur les problemes sociaux et politiques, debordant largement le domaine du roman noir ou il avait inscrit ses premiers livres.Auteur d'une oeuvre considerable, principalement chez Gallimard et Verdier, et d'un large continent de nouvelles.

Jennifer Sullivan Buchwald-Baerwald is Professor of Physiology Emeritus, UCLA School of Medicine and former Associate Director, UCLA Brain Research Institute. She has published extensively in Science, Nature, Brain Research, Neuroscience Research, Journal of Neurophysiology, Annual Review of Physiology, Experimental Neurology, Journal of Nervous and Mental Disease, American Journal of Physiology, Brain Research Bulletin. Sullivan spent several years in and around New Orleans as a graduate student, an experience that provided background and awareness for writing The Levee. Her fiction was nominated for the Pushcart Prize and won the California Writers' Award in 2010. The Levee is her first novel.
Praise For…
---
Praise for Murder in Memoriam

"How many detective stories have helped a country confront its past? Murder in Memoriam has certainly done that."
—The Guardian

"Serves as a tap on the shoulder—a necessary reminder that what is dead is not buried, and what is buried is, unfortunately, not dead."
—Derek Raymond

"Murder in Memoriam is the kind of book that begins to restore one's confidence in the detective story. Not only has Daeninckx produced a particularly intriguing narrative, but he has found a way to give this narrative a satisfying significance . . . A touch of moral vision and a pinch of righteous anger work wonders."
—Nick Hornby

"Didier Daeninckx is a novelist, magician and archaeologist prince . . . A frightening book."
—Jerome Charyn

"A crime fiction landmark."
—Reviewing the Evidence

"A masterful weave of political history."
—Publishers Weekly

Praise for A Very Profitable War

"One hell of an unflinching look at war and its aftermath."
—The Thrilling Detective

"An entertaining thriller . . . A Very Profitable War is also noteworthy because Daeninckx doesn't just think outside the box as far as this fairly well-worn genre goes, he shatters it."
—The Complete Review

"Melville House continues to uncover hidden gems and this 1984 novel by one of France's most popular writers is a perfectly polished jewel . . . Let's hope Melville House brings out more of Daeninckx's novels."
—The Globe and Mail (Toronto)