Mrs. Poe (Large Print / Hardcover)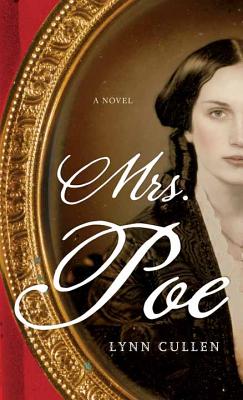 This Book Is Not Sold Online - In Store Special Order Only
Staff Reviews
---
Normal
0
false
false
false
EN-US
X-NONE
X-NONE
/* Style Definitions */
table.MsoNormalTable
{mso-style-name:"Table Normal";
mso-tstyle-rowband-size:0;
mso-tstyle-colband-size:0;
mso-style-noshow:yes;
mso-style-priority:99;
mso-style-qformat:yes;
mso-style-parent:"";
mso-padding-alt:0in 5.4pt 0in 5.4pt;
mso-para-margin-top:0in;
mso-para-margin-right:0in;
mso-para-margin-bottom:10.0pt;
mso-para-margin-left:0in;
line-height:115%;
mso-pagination:widow-orphan;
font-size:11.0pt;
font-family:"Calibri","sans-serif";
mso-ascii-font-family:Calibri;
mso-ascii-theme-font:minor-latin;
mso-fareast-font-family:"Times New Roman";
mso-fareast-theme-font:minor-fareast;
mso-hansi-font-family:Calibri;
mso-hansi-theme-font:minor-latin;
mso-bidi-font-family:"Times New Roman";
mso-bidi-theme-font:minor-bidi;}
Mrs. Poe gleams
like a diamond in gaslight, its facets glittering.  Look, there's a love
story, seductively shiny.  Over here, a tale of 19th century New York with
its cobbled streets and sinister corners.  And sparking over it all, the
mysterious Edgar Allan Poe - and all of the mystery, longing and history is
conveyed by a novelist in complete command of her story.
Nick at Books Inc. in Alameda
October 2013 Indie Next List
---
"Readers who enjoyed imagining the private lives of famous figures in Loving Frank and The Paris Wife will savor the behind-the-scenes peek into the intimacies of Edgar Allen Poe, his infirm young wife, and Frances Osgood, the writer who stole his heart. As compulsively readable -- and often as dark -- as Poe's works, Mrs. Poe is a well-researched and detailed work whose supporting cast of characters include Margaret Fuller, Horace Greely, and other literati of mid-19th century New York."
— Cheryl McKeon, Book Passage, San Francisco, CA
About the Author
---
Lynn Cullen grew up in Fort Wayne, Indiana. Her recent novel, "Mrs. Poe", a national bestseller, has been named a Target Book Club Pick, an NPR 2013 Great Read, and an Indie Next List selection. She lives in Atlanta surrounded by her large family, and, like Mark Twain, enjoys being bossed around by cats.