The Pale King (Compact Disc)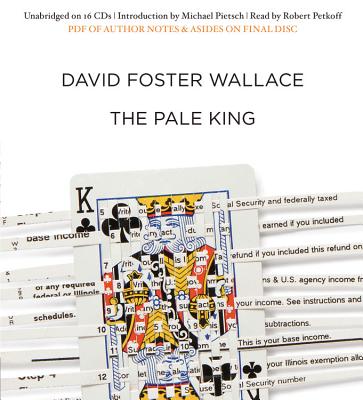 This Book Is Not Sold Online - In Store Special Order Only
Description
---
The agents at the IRS Regional Examination Center in Peoria, Illinois, appear ordinary enough to newly arrived trainee David Foster Wallace. But as he immerses himself in a routine so tedious and repetitive that new employees receive boredom-survival training, he learns of the extraordinary variety of personalities drawn to this strange calling. And he has arrived at a moment when forces within the IRS are plotting to eliminate even what little humanity and dignity the work still has.

The Pale King remained unfinished at the time of David Foster Wallace's death, but it is a deeply compelling and satisfying novel, hilarious and fearless and as original as anything Wallace ever undertook. It grapples directly with ultimate questions--questions of life's meaning and of the value of work and society--through characters imagined with the interior force and generosity that were Wallace's unique gifts. Along the way it suggests a new idea of heroism and commands infinite respect for one of the most daring writers of our time.
About the Author
---
David Foster Wallace (1962-2008) is the author of Infinite Jest, Girl with Curious Hair, Everything and More, The Broom of the System, and other fiction and nonfiction. Among his honors, he received a MacArthur Foundation Fellowship, a Lannan Literary Award, and a Whiting Writers' Award.

Robert Petkoff has won multiple "AudioFile "Earphones awards for his acclaimed narrations. He was named Best Voice of Fiction & Classics for his reading of "The Evolution of Bruno Littlemore" by Benjamin Hale. His other narration credits include "Oath of Office" by Michael Palmer, "Gangster Squad "by Paul Lieberman, and books by David Foster Wallace.Petkoff has appeared on Broadway, Off-Broadway, and in theaters across America and Europe. He has worked in television and film. His theater credits include Lord Evelyn Oakleigh in the Broadway production of "Anything Goes", Perchik as part of the Tony-nomianted cast of "Fiddler on the Roof", and Hubert Humphrey in the Tony award-winning play "All the Way." He has also had numerous roles in television on shows such as "Law and Order" and "Married with Children."