Field Notes on Democracy: Listening to Grasshoppers (Paperback)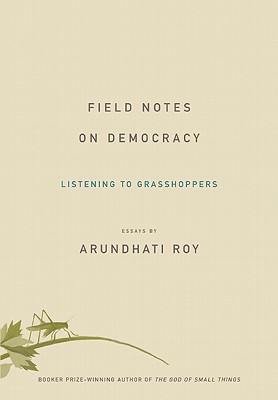 This Book Is Not Sold Online - In Store Special Order Only
Description
---
"Gorgeously wrought . . . pitch-perfect prose. . . . In language of terrible beauty, she takes India's everyday tragedies and reminds us to be outraged all over again."—Time
"Arundhati Roy is the conscience of her country."—Los Angeles Times
This series of essays examines the dark side of democracy in contemporary India. It looks closely at how religious bigotry and cultural nationalism simmer just underneath the surface of the world's largest democracy.
This updated paperback edition features three new chapters, two recent articles (Mr. Chidambaram's War: India's War Against Its Indigenous People and "Walking with the Comrades"—written in response to new developments in India that have seen the government launch a full scale war, "Operation Green Hunt," against the tribal community of Naxals defending their land in central India), and a previously unpublished essay also dealing with the government's response to the tribals' demands for greater land rights. Arundhati Roy's writings on the Naxals and her public support for their cause have led to a government investigation and threats of imprisonment, engendering worldwide petitions and outcry in her defense.
About the Author
---
Arundhati Roy is a world-renowned Indian author and global justice activist. From her celebrated Booker-Prize winning novel "The God of Small Things," to her prolific output of writing on topics ranging from climate change to war, the perils of free-market "development" in India, and the defense of the poor, Roy's voice has become indispensable to millions seeking a better world.