The Pleasure Seekers (Paperback)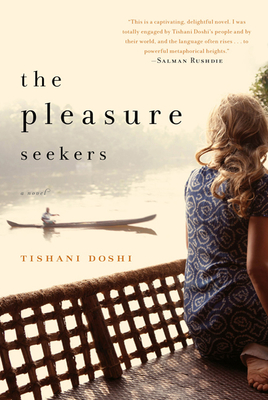 This Book Is Not Sold Online - In Store Special Order Only
Description
---
Meet the Patel-Joneses Babo, Sian, Mayuri, and Bean in their little house with orange and black gates next door to the Punjab Women's Association in Madras. Babo grew up here, but he and Sian, his cream-skinned Welsh love, met in London. Babo's parents disapproved. And then they disapproved unless the couple moved back to Madras. So here they are. And as the twentieth century creaks and croaks its way along, Babo, Sian, and the children navigate their way through the uncharted territory of a "hybrid" family: the hustle and bustle of Babo's relatives; the faraway phone-line crackle of Sian's; the eternal wisdom and soft bosom of Great-Grandmother Ba; the perils of first love, lost innocence, and old age; and the big question: What do you do with the space your loved ones leave behind?
Tishani Doshi, a prizewinning poet, plunges into fiction for the first time with this tender and uplifting debut. With rich feeling and dazzling language, Doshi evokes both Zadie Smith and Rohinton Mistry as she captures the quirks and calamities of one unusual clan in a story of identity, family, belonging, and all-transcending love.
About the Author
---
Tishani Doshi is a poet and dancer based in Madras, India. Her first collection of poetry, "Countries of the Body," won the Forward Poetry Prize for best first collection in 2006. "The Pleasure Seekers "is her first novel.
Praise For…
---
"[A] rich debut.. Doshi tackles some heavy issues, such as the difficulties of leaving family behind and the ongoing repercussions of that choice, with intelligence and grace." - Booklist
"This is a captivating, delightful novel. I was totally engaged by Tishani Doshi's people and by their world, and the language often rises - when speaking of the great matters, life, death, and above all love - to powerful metaphorical heights." - Salman Rushdie
"I read this book almost in one sitting, and became completely engaged by the characters. I suffered those horrible, familiar pangs of literary envy." - Louis de Bernières, author of Corelli's Mandolin
"A seductive and lovable novel: it is about pleasure sought and, more importantly, pleasure found."
- Guardian
 "A charming, moving, cross-generational tale." -
Daily Beast
 "
The Pleasure Seekers
helps renew your faith in what affection, love, and desire can do
.
" -
Barnes & Noble Review