A Whole Nother Story (Paperback)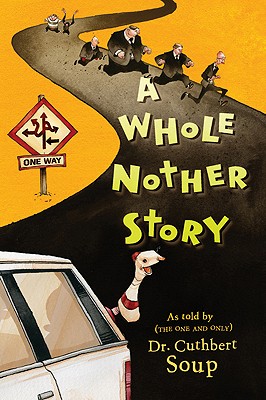 January 2010 Indie Next List
---
"A Whole Nother Story will keep you smiling, laughing, and totally on your toes from cover to cover. The Cheeseman family will take you in and drag you along on their unfortunate adventures, which include; sock puppets, chimps, time-travel machines, and hairless psych dogs. My unsolicited advice: Read it in one sitting, laugh and beg for the next book in the series"
— Becky Anderson, Anderson's Bookshop, Naperville, IL
Description
---
Mr. Cheeseman, his three relatively odor-free children, a psychic hairless dog, and a sock puppet named Steve are on the run. Why? Because Mr. Cheeseman invented a time machine, of course. Now they're being chased by international super spies, top secret government agents, and a genius monkey. Dr. Cuthbert Soup, the head of the Center of Unsolicited Advice, narrates this wild adventure that will lead readers straight into next season's sequel: "Another Whole Nother Story.
About the Author
---
Before becoming an author and advisor, Dr. Cuthbert Soup held many other fun and rewarding jobs. For a brief time he worked at the mall as a smoke detector but was eventually replaced by a machine. A talented musician, he then moved to New York City and landed a gig playing elevator music. He was fired, however, when his trombone kept smacking other people in the elevator. Currently the founder and president of the National Center for Unsolicited Advice, Dr. Soup resides in a semisecret location with his dog, Kevin, and his two pet snails, Gooey and Squishy. In his spare time he enjoys cajoling, sneering, and practicing the trombone in crowded areas. This is his first book.

Jeffrey Stewart Timmins was born July 2, 1979. In 2003, he graduated from the Classical Animation program at Sheridan College in Oakville, Ontario. He currently works as a freelance designer and animator. Even as an adult, Timmins still holds onto a few important items from his childhood, such as his rubber boots, cape, and lenseless sunglasses.